This article collects the best date ideas and romantic things to do in Portland for couples based on major travel, blogs, reviews, and social media sites.
There are numerous romantic activities available in Portland. The city's biggest attractions are listed below, along with ideas for romantic dates. These activities, which range from fine dining to sightseeing throughout the city, are free to attend.
Imagine surprising your loved one with a last-minute trip to Portland?
Imagine what it was like when you two first met.
Bring those emotions to the forefront as you read this article.
Here are 30+ romantic things to do in Portland with your partner.
I like to travel but also be smart with money. Below are the places where I start my planning with.

– ✈️Flights, Hotel, Tours – I seek out Flash Sales to guide my planning 👉 Find good deals
– 🛡️Travel Insurance – I like to go to the source like Travelex instead of paying a broker 👉Here
– 🚗Car Rental – Rental will save you lots of headaches. Search, compare, and save first up to 30-50% on Discover Cars. 👉 Save Now
Links from affiliated brands I like.
Outdoor / Adventurous Date Ideas in Portland To Have Fun
Have fun watching Odyssey Whale in the waters
Cost: $11/person (ticketing)
Address: 170 Commercial St, Portland, ME 04101
Phone: +1 207-775-0727
Explore the open ocean on an exciting Maine Whale Watching excursion in search of whales, dolphins, sharks, sunfish, and seabirds.
The Odyssey, a large, well-equipped oceangoing ship with decks for stunning views, conducts tours. The trained and skilled crew of the boat includes the naturalist, who will provide intriguing facts about the ocean environment and the marine life seen throughout the tour.
The four-hour trip takes passengers 20 miles offshore to the whales' feeding grounds for the best viewing. There are snacks, sodas, and alcoholic beverages accessible in the covered galley. Don't forget to wear warm clothes, even in pleasant weather.
Portland Discovery Land and Sea Tours
Cost: $37/person (ticketing)
Address: 170 Commercial St, Portland, ME 04101
Phone: +1 207-774-0808
"We went on the land tour in Portland and had a great time. Learned lots about the city and got to stop at a couple of great places. My favorite was our stop at the lighthouse." – Lori M
For 19 years, Portland Discovery has been a top tour operator, providing narrated harbor cruises on Casco Bay and escorted trolley tours across Portland.
Professionally qualified tour guides passionate about the city and its stunning natural surroundings lead the tours. The excursions are on top-of-the-line trolleys and completely furnished boats built for maximum comfort and unhindered views.
Many different excursions are available, from a breathtaking 90-minute boat trip through Casco Bay and its inner islands to a historic trolley tour through the center of Portland.
You can also arrange Private charters and group tours for special parties and occasions. More options include lobster bakes, boats, and trolley rides.
Enjoy horse riding at the Rockin' Horse Stables
Cost: Starts from $40-$80 (ticketing)
Address: 245 Arundel Rd, Kennebunkport, ME 04046
Phone: +1 207-967-4288
If you love horse riding, you will surely need to check out this option on your visit to Portland.
They are undoubtedly among the most romantic things to do in Portland because they provide a variety of horse-drawn rides, such as carriage rides and sleigh rides.
The Rockin' Horse Stables are best visited throughout the winter.
You may enjoy the sleigh ride while snuggled up under a blanket because the ground is covered in new snow.
When you go back to the stables, you'll be given a free cup of hot chocolate!
As you go through the verdant countryside in a horse-drawn carriage, it may seem like you are in a fairy tale.
Have some fun at Commercial Street
Cost: Starts from $30-$100 (water tour + food)
Address: Commercial Street, Portland, Maine
Phone: N/A
Commercial Street is home to various bustling eateries, cafés, bars, and boutiques and runs along the water's edge of the city's downtown area.
Commercial Street, perched directly on the water's edge, is a pleasant retreat for visitors and locals, with cool sea breezes, picturesque nautical vistas of ships arriving and departing, and fishermen pulling in the catch.
The atmosphere in the stores offering delicious fish and other Maine goodies is typical of New England.
Commercial Street is a terrific spot to go if you don't know where to start when exploring this amazing city. Architectural wonders like the Customs House, a singular combination of Renaissance Revival and Second Empire architectural styles, will transport you back in time.
---
You might also like these articles
---
Music, Art, Historic, Cultural Date Ideas in Portland
Maine Historical Society & Wadsworth-Longfellow House
Cost: $10/person (ticketing)
Address: 489 Congress St, Portland, ME 04101
Phone: +1 207-774-1822
Visit the Maine Historical Society to learn everything there is to know about Maine's past. The Society is a developing museum with a top-notch library that serves as a valuable educational resource for the entire country.
It was established in 1922 and is located in the center of the busy Congress Street in the heart of the downtown Portland area.
The Society has a campus location across Monument Square and welcomes visitors annually.
The Wadsworth-Longfellow House was built by General Peleg Wadsworth in 1785 and was designated a National Historic Landmark in 1962. The mansion is the oldest existing building on the Portland peninsula.
The home itself is a superb example of the architectural style used in New England at the time, and the furniture, antiques, and things show how fashion, technology, and attitudes changed over the 18th and 19th centuries.
Relive the history at Fort Gorges
Cost: Free
Address: Portland, ME 04101
Phone: +1 207-370-1181
"The views from the Eastern Promenade are so great, and Ft Gorges is one of them — a little jewel surrounded by sapphire waters. It's accessible by tour or kayak." – Nick
Off the coast of Casco Bay is an old military fortification called Fort Gorges. It doesn't provide excursions; the only ways to get there are by boat, canoe, kayak, or by hiring a water taxi.
If you want to explore the darkest areas of the ruins, it is advised that you bring a flashlight. If you arrive at a deteriorating deck or a wall of an overgrown bunker, there are no assurances of safety.
Bring that flashlight if you're hoping to find something amid the ruins. Fort Gorges is a completely self-guided site, which can be advantageous and disadvantageous for tourists from Portland.
Witness the magnificent glimpse of technological revolution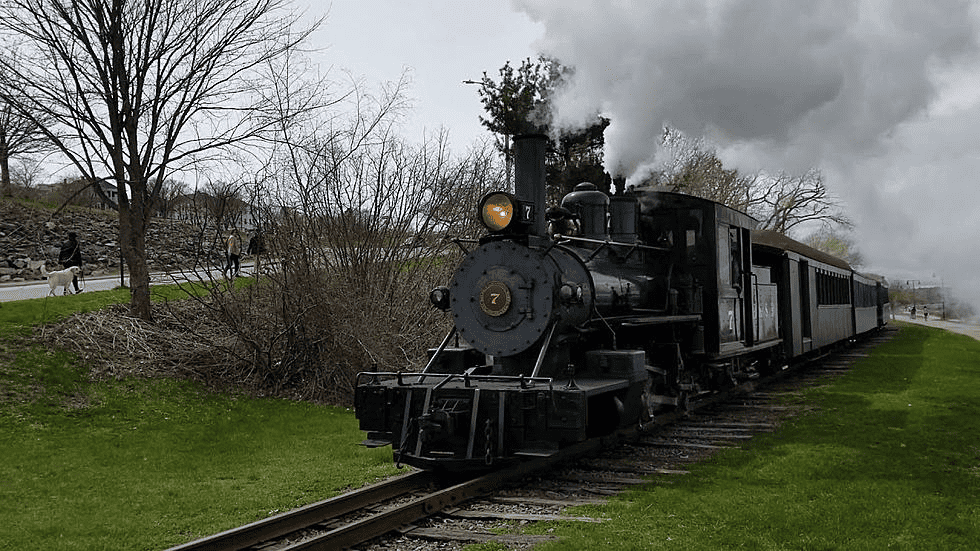 Cost: $15/person (ticketing)
Address: 49 Thames St, Portland, ME 04101
Phone: +1 207-828-0814
The Maine Narrow Gauge Railroad Company & Museum, founded in 1992, is a wonderful organization created to conserve the state's historic two-foot gauge railroad equipment.
The museum has a unique collection of historical relics and rolling stock from small gauge railroads from the late 19th and early 20th centuries.
The museum offers a variety of events and presentations for tourists, such as the Diesel Guest Engineer. It is a 23-ton, four-axle diesel-electric locomotive. Or you can enjoy the Ice Cream Train ride, relax with ice cream and enjoy the stunning views of Casco Bay.
Know more about the evolution of mammals at International Cryptozoology Museum
Cost: $10/person (ticketing)
Address: 32 Resurgam Pl, Portland, ME 04102
Phone: N/A
The International Cryptozoology Museum, the only institution of its kind in the world, honors "cryptozoology," the study of concealed animals, from elusive cougars to the notoriously enigmatic Bigfoot.
Among the interesting museum exhibits are the Abominable Yeti, the Jersey Devil, the Mothman, different lake monsters, and an 8-foot-tall Bigfoot made of musk ox hair.
The Komodo dragon, the panda, and the coelacanth are just a few examples of the odd species known as "cryptids" that are on show in the museum. The museum is a fascinating source of information and interest for people of all ages.
---
You might also like these articles
---
Listen to some magnificent symphonies at Portland Symphony Orchestra
Cost: Starts from $70-$400 (ticketing)
Address: 85 Exchange St 4th Floor, Portland, ME 04101
Phone: +1 207-773-6128
The Portland Symphony Orchestra, founded in 1923 and regarded as one of the best orchestras of its size in the nation, is a fully professional symphony orchestra that plays a wide range of concerts at the Merrill Auditorium throughout the year.
Under Robert Moody's direction, the orchestra routinely presents well-known guest musicians and presents the "Magic of Christmas," a much-loved tradition for more than 25 years.
Get a glimpse of past at 5th Maine Museum
Cost: $8/person (ticketing)
Address: 45 Seashore Ave, Peaks Island, ME 04108
Phone: +1 207-766-3330
The 5th Maine Museum, a tiny museum close to Portland on Peak Island, is only a 20-minute ferry ride from the city, with boats leaving almost every hour.
After that, it will take around 10 minutes to walk to the museum from the landing. However, you may also rent golf carts and take the island taxi. The first floor of the Fifth Maine Museum is wholly devoted to the regiment's history, with photos and memorabilia covering the walls.
However, the second level is devoted to Peak Island's history from the 1800s to the present.
Witness some fantastic architectural marvels at Victoria Mansion
Cost: $16/person (ticketing)
Address: 109 Danforth St, Portland, ME 04101
Phone: +1 207-772-4841
"We really enjoyed the history and walkthrough of this beautiful building. You can only do the first two floor, but it was nice just the sam. Worth the cost and time…" – Alex
One of the outstanding representations of pre-Civil War grandeur and beauty in America is the Victoria Mansion, also known as the Morse-Libby House. Built between 1858 and 1860 as a magnificent vacation residence for Ruggles Sylvester Morse, a luxury hotel tycoon from Maine.
Gustave Herter created the exquisitely preserved interiors of the mansion, which still have more than 90% of the furniture he created for the original owner.
From May through October, guided tours are provided, along with specially designed group excursions for certain interests. The mansion is a distinctive historical landmark in Portland that provides everyone with a constantly updated list of historical details.
Relax yourself by watching soothing performances at Merrill Auditorium
Cost: Starts from $30-$250 (ticketing)
Address: 20 Myrtle St, Portland, ME 04101
Phone: N/A
"Second time we've gone to this show and it doesn't disappoint. The music is fantastic and the show has good comedy." – George
One of Portland's most well-known venues, it features a huge pipe organ as its focal point and often holds events, including concerts and theatrical performances.
The Portland Symphony Orchestra is one of Merrill Auditorium's most eagerly awaited performances. The Portland Ballet and the Friends of the Kotzschmar Organ are further options.
The amphitheater collaborates with the city's celebrated Polar Express during the holidays. Even for your events, Merrill Auditorium is available for rental.
For instance, you might like the classically beautiful building as a backdrop for your wedding photographs if you are married or honeymooning in Portland.
---
You might also like these articles
---
Explore the fantastic lighthouse and museum at The Portland Observatory
Cost: $12.31/person (tour)
Address: 93 High St, Portland, ME 04101
Phone: +1 207-774-5561
"The Views were 360 and the tour guide was awesome and very knowledgeable. You could see for miles!!!" – Corenna
The Portland Observatory is a famed tower on Munjoy Hill that serves as a beloved representation of Portland's strong nautical past and offers breathtaking views of the port in the pacific northwest of portland.
The tower is unique as it uses a telescope and signal flags to facilitate communication between ships and the land.
The telescope, which could see ships kilometers away, was located in the dome (lantern) of the observatory. It was recognized as a National Historic Landmark in 2006 and is now a museum that the public is welcome to visit.
You can take advantage of guided tours of the tower that highlight its significance to maritime history and the evolution of Portland's seaport over the past 200 years.
Indulge yourself into some artistic things at Portland Museum of Art
Cost: $25/person (ticketing)
Address: 7 Congress Sq, Portland, ME 04101
Phone: +1 207-775-6148
The Portland Art Museum is Maine's oldest and biggest public art organization. It was originally founded as the Portland Society of Art in 1882.
The museum, housed in the Alberta Arts District, has a collection of more than 17,000 decorative and fine art items from the 18th century to the present.
Plunge into the history by exploring the three architecturally noteworthy buildings, with the Charles Shipman Payson Building serving as the institution's public face.
Indoor / Relaxing / Foodies Date Ideas in Portland
Have a scrumptious dinner at Hugo's
Cost: Starts from $30-$90 (food)
Address: 88 Middle St, Portland, ME 04101
Phone: +1 207-774-8538
Hugo's, an upscale eatery in Portland's Old Port's flourishing India Street district, opened its doors in 1999. For their unique, seasonally changing menu, they emphasize using locally produced, foraged, and finished products.
With cozy leather banquettes and seats, reclaimed wood, and wrought iron accents, the dining area is a mix of luxury and rustic, contrasting with handcrafted tableware and a hand-stitched menu.
The open kitchen is the space's focal point, and their "blind tasting menu" is the greatest way to appreciate what is truly prepared there. You won't be dissatisfied. Try the crispy-skin pig belly or the crêpe-wrapped arctic char, which are recommended. Their peanut butter cupcake is legendary.
Drink wine, eat food and get relaxed at The Portland Hunt and Alpine Club
Cost: Starts from $20-$100 (food)
Address: 75 Market St, Portland, ME 04101
Phone: N/A
"Awesome time at the bar here! Needed a mid afternoon pit stop while touring around Portland. Had the oysters and local beer – can't be beat! Amazing service and food." – Docker
One of Portland's most well-known cocktail establishments, The Portland Hunt and Alpine Club, was established in the city's central business district by Briana and Andrew Volk in 2013.
The restaurant combines the elements of both a restaurant and a cocktail lounge. The Scandinavian-inspired bar serves a light menu of traditional dishes like Swedish meatballs, gravlax, and krabba rullar, along with inventive bar snacks like bacon-wrapped dates and homemade soft pretzels.
Diners can share smörgsbord-style charcuterie platters or order popcorn and champagne for the table to mix with the restaurant's famous green chile and parmesan popcorn and good reserve sparkling wine for a romantic time.
Regional draught beers, foreign wines, and more than 60 fine whiskey options are offered in addition to a sizable craft cocktail menu.
Sip in some cool breweries at the Rising Tide Brewing Company
Cost: Starts from $15-$40 (beer)
Address: 103 Fox St, Portland, ME 04101
Phone: +1 207-370-2337
"Absolutely wonderful experience! Great beer and ambience, fantastic staff! Highly recommend if you are bar hopping!" – Bella
Rising Tide Brewing Company is a family-run craft brewery in Portland's East Bayside that specializes in small-batch, artisanal handcrafted ales.
The brewery produces a wide range of light and dark ales, from year-round and seasonal brews to special releases like the Hop Harvest Ale and Seven Barrel Series.
Visitors can sample some of the brewery's beers from the tasting room during a brewery tour, including an examination of the production process. The welcoming staff is on hand to answer any questions.
Fulfill your appetite at Green Elephant
Cost: Starts from $15-$30 (food)
Address: 608 Congress St, Portland, ME 04101
Phone: +1 207-347-3111
Owners and chefs Bob Wongsaichua and Dan Sriprasert launched the vegetarian eatery The Green Elephant in Downtown Portland in 2007.
The Green Elephant serves vegetarian and non-vegetarian customers with well-balanced, expertly cooked, and beautifully presented cuisine in an understated, cozy setting free of the required garish décor so typical of Asian restaurants.
Pan-Asian cuisine includes creative, delectable, and healthful foods with inspirations from Malaysia, Thailand, China, and India.
Enjoy a perfect romantic dinner options include favorites like crispy wontons, tempeh curry, tofu and vegetable teriyaki, and watercress veggie duck from the lunch menu, which is enlarged. There is vegetarian soy meat in the recipes.
Check out some delicious baked goods at Standard Baking Co
Cost: Starts from $10-$40 (food)
Address: 75 Commercial St, Portland, ME 04101
Phone: +1 207-773-2112
The most well-known bakery in Portland is called Standard Baking Co. It is situated in Old Port, underneath Fore Street Restaurant and across from the harbor.
There is always a line waiting for their freshly baked baguettes, croissants, pastries, and other European-style baked goods, so you cannot miss it. You will be guided by the perfume from great distances and won't mind waiting.
When possible, all of the ingredients used by Standard Baking Co. for their pieces of bread and pastries are organic and locally grown; they are also bought from local producers. They make use of whole grain, organic, unbleached wheat flour.
Calm your taste buds at Elsmere BBQ and Wood Grill
Cost: Starts from $20-$70 (food)
Address: 476 Stevens Ave, Portland, ME 04103
Phone: +1 207-536-1029
A premier family grill in Portland, OR, Elsmere BBQ, and Wood Grill is renowned for their premium natural meats and various craft beers.
The eatery, which is found in the city's Deering Center neighborhood, has a stunning full bar with a restored 1930s garage sign honoring the area's previous use as the Elsmere Auto Garage. Combo plates for barbecue include dishes like delicately grilled brisket, St.
Hand-pulled pulled pork, housemade sausage, and slow-smoked ribs in the Louis fashion. Personalized selections Let customers add their preferred house meats to quesadillas, nachos, flatbreads, burritos, and tacos. Homestyle sides like collard greens, cornbread, and BBQ baked beans are also available.
Explore, eat and enjoy delectable cuisines at Maine Foodie Tours
Cost: $25/hr (ticketing)
Address: At the Portland Beer Hub, 320 Fore St, Portland, ME 04101
Phone: +1 207-233-7485
Take a terrific gastronomic tour to learn more about Portland's culinary industry. Maine Foodie Tours provides a selection of tours focusing on the delectable cuisine created from the region's plentiful supply of dairy products, fresh fish, seafood, and organic fruits and vegetables.
On one of the tours, you can taste and appreciate all of the inventive and delectable local meals that Maine's chefs, artisans, brew masters, and bakers collaborate on.
These acclaimed excursions are guided by local experts who are enthusiastic about food and their city. They will share their knowledge with you while showing you around the city's numerous areas, including the Old Port.
Don't miss to check out the best bagel of Portland
Cost: Starts from $15-$40 (food)
Address: 428 Forest Ave, Portland, ME 04101
Phone: +1 207-835-0991
Chad Conley, an executive chef, established Rose Foods in 2017. The restaurant offers menu selections made with premium products imported from Belfast and New York City seven days a week during the morning and afternoon.
A range of inventive closed and open-faced bagel sandwiches are available for customers to choose from, like the Classic Nova, which is made with lox, cucumber, and dill, and the L Train, which is made with oyster mushrooms, Swiss cheese, and pickled jalapenos.
Along with the entire fisherman's feasts for two, which feature a selection of the restaurant's best dishes, classic sandwiches on rye are also available. You can enjoy any meal with a selection of coffees, teas, and juices, as well as a choice of Dr. Brown's soda.
Opt in for some tantalizing seafood at Eventide Oyster Company
Cost: Starts from $15-$30 (food)
Address: 86 Middle St, Portland, ME 04101
Phone: +1 207-774-8538
Of course, visiting Portland, Maine, means filling your face with lobster and oysters of every variety. There are no better options available anywhere else.
Eventide, a little, bustling seafood restaurant in Old Port close to the East End with a fantastic raw bar, amazing lobster rolls, and some unusual twists on New England classics, is one of the best places in town for truly excellent seafood experiences.
Their lobster rolls, served in a steamed bun with brown butter, are to die for. They always have about 20 different types of shells on hand. Other foods have unique variations in their classic recipes.
Colorful and spicy cuisines awaits you at The Honey Paw
Cost: Starts from $25-$80 (food)
Address: 78 Middle St, Portland, ME 04101
Phone: +1 207-774-8538
The Honey Paw, a charming modern restaurant in Portland's Munjoy Hill district, is the sister establishment of the well-liked oyster bar Eventide. Customers can enjoy delectable cuisine with pan-Asian influences at the restaurant.
The large range of noodle meals available to diners includes wok-fried biang biang. Along with heirloom rice dishes like mapo doufu made with heiwa tofu, Szechuan chile, and fermented black beans, fried chicken is also available on the table.
Cold-cut bahn mi sandwiches are one choice for lunch, while curry puffs and togarashi biscuit breakfast sandwiches are the star dishes for brunch. Imported draught beers, fine sakes, and a premium craft cocktail program are available on a sizable drink menu.
Taste the wines of award winning brewery at Baltimore
Cost: Starts from $15-$30 (beer)
Address: 50 Industrial Way, Portland, ME 04103
Phone: +1 207-878-5385
A 2019 James Beard Award winner for "Outstanding Wine, Spirits, or Beer Professional," Rob Tod created the Allagash Brewery, an independent craft brewery in Portland, Maine.
This Certified B Corp brewery is most known for its Allagash White wheat beer in the Belgian style. Still, it also makes sours, spontaneously fermented, barrel-aged, and other beverages.
The brewery is regarded as one of the nation's top fifty largest craft breweries.
Get in for some unique culinary experience Petite Jacqueline
Cost: Starts from $15-$35 (food)
Address: 46 Market St, Portland, ME 04101
Phone: +1 207-553-7044
"A very nice, very French (especially for being located in Portland, Maine), restaurant with some classic and innovative twists on classic dishes. We particularly enjoyed the omelet and the crepes, and the very friendly services. Très bon fait!" – Beuken
Are you looking for some irresistible French cuisine in Portland?
Petite Jacqueline is a relaxed, laid-back French cafe that provides delectable café-style meals, carafe wine, and top-notch coffee. It's a perfect date idea to enjoy some of the best meals in the city. It is located in Portland's West End district, close to the city's well-known "Arts District."
The food at the Bistro is basic, traditional French cuisine with an emphasis on straightforward ingredients and mouth-watering tastes (think foie gras and French onion soup). You will surely love the exquisite taste and want to come for more.
Take out your time to taste some delicious meals at Central Provisions
Cost: Starts from $20-$50 (food)
Address: 414 Fore St, Portland, ME 04101
Phone: +1 207-805-1085
One of the city's favorite locations for years has been Central Provisions in Portland's Old Port. Its crowded tables, lively underground bar, and seasonal cuisine focus on small meals.
Dishes are requested in small quantities and are prepared in raw, cold, hot, and hearty categories. It makes for uncomplicated, straightforward eating in a cozy and pleasant setting.
The same delicious delicacies are served for desserts, such as salted caramel mousse with chocolate, coffee, and a local strawberry shortcake. The helpful, friendly staff works with diners to interpret the menu and provide guidance on the foods and wines to go with them.
Nature-Inspired Date Ideas in Portland
Refresh yourself at Coastal Maine Botanical Gardens
Cost: $10/person (ticketing)
Address: 105 Botanical Gdns Dr, Boothbay, ME 04537
Phone: +1 207-633-8000
"Phenomenal place to visit. Not only are the gardens beautiful, the volunteers are knowledgeable and helpful. The trails are well kept and the Trolls are exceptional." – Caryn
You'll need to be willing to take a road trip to the Coastal Maine Botanical Gardens because they're approximately an hour north of Portland, but the trip will be well worth it.
They are so stunning that they have drawn tourists from more than 63 different nations and are regarded as one of New England's top tourist destinations.
It begins with a vast, expansive landscape that stretches for miles. Everything from quiet forests to boisterous ponds stocked with fish.
Walk inside the butterfly house, take a boat tour, stop at the gift shop, and enjoy the beauty of this lovely venue.
Enjoy your time by sightseeing at Eastern Promenade
Cost: Starts from $15-$25 (ticketing)
Address: Eastern Promenade, Portland, ME 04101
Phone: N/A
There is a lot to see and do along the Eastern Promenade. You can play a game on the baseball, mini golf, basketball, or tennis courts if you enjoy getting your heart rate up or you can have a romantic picnic.
You can explore local attractions like the former railway or the mass burial of American troops killed in the War of 1812 if you prefer sightseeing.
The Eastern Promenade is a well-liked location for picnics due to its waterfront location; therefore, there are frequently blankets on the grass.
In and around Portland, there are a tonne of free activities.Moreover, if you are more interested in visiting gardens then you can also visit Portland japanese garden as well. You only need to locate them.
Set out for a tropical adventure in Portland
Cost: Free
Address: 109 Bowery Beach Rd, Cape Elizabeth, ME 04107
Phone: +1 207-799-5871
"Visited the park by myself to sit on the beach and read. It was a beautiful day. A very pretty place." – Peter
If you want to have fun on the beach, where you can enjoy the sun, cool breeze, and beautiful waves, then Crescent Beach State Park is one of them.
Almost 250 acres of southern Maine's Crescent Beach State Park are spread out there. It provides nature walks, fields, trees, playgrounds, and beaches.
There are spots where you may spread out a towel and work on your tan; other spots let you go swimming, hiking, fishing, kayaking, picnicking or wading into tide pools to collect starfish.
One of the top Portland attractions on the map, Crescent Beach State Park offers a little something for everyone.
Unforgettable Date Experiences in Portland
Cruise over the Islands of Casco Bay
Cost: $30/person (ticketing)
Address: The Islands of Casco Bay, Portland, Maine
Phone: N/A
The Islands of Casco Bay, accessible from the coast of Maine, are worth visiting if you want to escape the city's bustle and unwind in true island style.
Visiting Peaks Island is a great date idea as you will see the magnificent sandy beaches, lovely restaurants, and a welcoming artist community. It is reachable by ferry in just 20 minutes, while Great Diamond Island offers a historical tour of the former parade grounds of Fort McKinley.
The Maine Island Trail Association has plotted a path from the New Hampshire border to Machias Bay and provides a helpful guide to all kinds of useful and fascinating information regarding the Casco Bay Trail for outstanding hiking and wildlife-watching island adventure.
Tour of Portland, Maine: Top 10 Portland Maine Things To Do and See ✔️
Final Thoughts
Portland is a beautiful city located on Maine's southern coast. The city's attractions are museums, old structures, historic sites, historic buildings, romantic getaways, hiking trails, city tours, boat tours, amusement parks, food events, and renowned eateries.
We hope you will enjoy all the places on this list.
Have a beautiful time in Portland.
Thanks for reading!
Make your money go further with these resources for your next trip!

– ✈️Flights, Hotel, Tours – I seek out Flash Sales to guide my planning 👉 Find good deals
– 🛡️Travel Insurance – I like to go to the source like Travelex instead of paying a broker 👉Here
– 🚗Car Rental – Rental will save you lots of headaches. Search, compare, and save first up to 30-50% on Discover Cars. 👉 Save Now
Links from affiliated brands I like.