Having A Holiday Everyone Will Remember By Making These Traditions Your Own
During the holidays it is important to be with the people you love and feel closest too. Sometimes because of work and life we can't always do that. But a great way to feel closer to those around the holidays is by having your family Christmas traditions passed down and celebrated each year the same way.
Today we are going to go over some really awesome family traditions that happen around Christmas time.
This post may contain affiliate links. For my full disclosure see here.
What Are Family Christmas Traditions Anyways?
I had a few people ask me – so I do want to clarify. It is something you start doing and continue doing year after year on every Christmas. Making it a yearly routine with your family.
How Can I Make My Family Christmas Special?
With these fun family Christmas traditions it is sure to be special for everyone involved. By incorporating a few of these traditions or even just one to your families Christmas this year you will see just how fun and special it will feel year after year.
The Best Family Christmas Traditions
1. Make It Smell Like Christmas
Start every holiday by making it smell like Christmas. You can do this early in the morning before your family wakes up – that way they wake up to a wonderful smelling sensation that let's them know it's Christmas.
Thank you Mama In Pearls For this wonderful suggestion.
2. Christmas Book Idea
This wonderful tradition is one of our favorites. You can see more on what to do for this tradition at Daily Momtivity Blog
Need some Book ideas for your little's here are 25 Christmas Books centered around Christ for kids by Joyfully Thriving
3. Decorate Your Home On December 1st
Start decorating your home on the first of December this lets you celebrate the holiday season longer. This is especially helpful if you have smaller children who love the decorations.
Put the tree up early, cover the mantle, put lights outside, you can do this day by day or go all out and spend the first of the month decorating like crazy.
Christmas Tree Traditions
4. Make Your Own Ornaments
See how to make Ginger Bread Cinnamon Ornaments this Christmas by: Strength And Sunshine Blog
Something so simple – can really make this this holiday seem more festive. This is great if you have smaller children who want to feel involved during Christmas.
5. Memory Tree Decorations
Create a Christmas tree that is full of memories – see how each ornament and decoration on your tree can be filled with your family and yearly adventures by going to Glitter On A Dime.
6. Creating A Button Garland Tradition
The meaning behind this button garland tradition is really cute and we think your family will also enjoy it. You can see more about it from our friends over at One Thousand Oaks.
Baking & Cooking Family Christmas Traditions
7. Butterscotch Peanut Butter Marshmallow Squares
Make this tasty treat with your little's and your children. And then pass the recipe down so they can make it with their children. What a lovely way to spend the morning of Christmas or even Christmas eve. Thank you My Kitchen Love for this awesome recipe.
8. Magic Reindeer Food Recipe
How cute are these DIY Christmas snacks, from Sugar and Souls blog. See how to make these and give them out to guest every holiday making this a tradition to always give.
Really Cool Traditions To Start With Younger Kids
9. Putting Oranges In Stockings
Have you ever wondered why people put oranges in stockings? Maybe this year you can start this tradition with your kids. You can see why oranges go inside the stockings on What's Up Fagans.
10. Making A Santa Stop Here Sign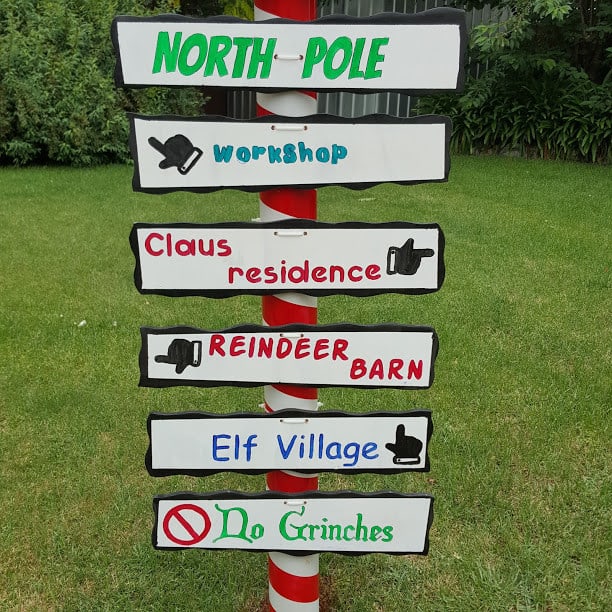 Want it to feel like the north pole? Make this beautiful sign and place it outside your home. Giving your little ones each a sign to make to place on the pole. You can do this tradition at the start of every December.
You can see step by step instructions on how to make this on Unique Creations By Anita
11. Creating A Christmas Eve Box
Creating a Christmas Eve box is something we do every year – first it was done for my niece and nephew and now we do it for our son. See what Aileen Cooks puts in the box to make it extra special for each family member to open up before Christmas.
12. Wearing Nativity Costumes
This is the time to be more faith based and really celebrate Christ. You can do this with your family by dressing up wearing nativity costumes. See how to do this from What's Up Fagans.
Christmas Count Down Traditions
13. Make A Reverse Advent Calendar
Want to teach kindness every holiday season to your family to spread. Use a reverse advent calendar to help count the days, and spread that Christmas joy. You can see exactly how to do this from Joyfully Thriving.
14. Burlap DIY Countdown Christmas Calendar
Get your kids excited to celebrate the holidays and give them a little fun way of counting down the days.
You can see exactly how to make this one by Sustain My Craft Habit.
15. Christmas Countdown Chain
Making this fun activity with your children day after day adding a little chain takes minimal effort and makes the most lasting and fun memories. You can see exactly how to do this by going to Hess-UnAcademy
Traditions On Teaching Kindness During The Holidays
16. Lunchbox Notes
Leave cute little notes for your children or spouse and increasing their awareness on being kind is one of the greatest things you can do leading up to Christmas.
See how cool this little printable is by going over to The Soccer Mom Blog.
17. Kindness Elves (alt to Elf On The Shelf)
We can learn a great deal from the Kindness Elves. See how this awesome holiday tradition works and how you can apply it to your family. You can see more about it at Aileen Cooks.
18. Focusing On Giving During Christmas
Help your children give more this holiday season by showing them to focus on giving instead of receiving making them more grateful for everything they have. Want to know how to do it – see Coffee and Carpool.
19. Make Christmas Treat Tags
Looking for a fun way to help your family have fun and bond together this holiday? Start the tradition of baking together and then giving the tasty treats away. See how you can do this at Play Party Plan.
20. Christmas Weekly Movie Night
The week leading up to Christmas my family and I love to watch one Christmas movie at night. We have a list of a few Christmas movies, some family friendly some not so much (Die Hard anyone).
If our sons are still awake when we do movie night we will go with something for kids and family, but if they are out we like to keep this tradition and watch a Christmas movie just for us.
Holiday Games To Do Every Christmas Season
21. 12 Days Of Christmas Games
Want really fun games that you can do with your family? See how these 12 games are perfect leading up to Christmas or the day of. From Play Party plan.
22. Christmas Family Feud
Make this a super fun event by playing Family Feud Christmas Edition. See more about how you can do this at Play Party Plan.
23. Christmas Lights Scavenger Hunt
Start this tradition leading up to Christmas. As you drive around your neighborhood have your kids point out the light decorations. Making each trip easier and fun for everyone involved. Get the free printable at Bre Pea.
24. Make Gingerbread Houses
Need to do something Christmas eve to get the excitement and holiday season stirring. Make sure you grab a gingerbread house and make your family compete or work on it together.
25. Christmas Movies Marathon
Watch your favorite movies before the holiday begins. You can do a Christmas movie a day. Or binge on two movies on Christmas Eve.
26. Choosing A Tree On The First Of December
Every first of December start the month by going to pick out a Christmas tree, it can be either a real one. Or if you still have your faux Christmas tree take it out on the first of December.
This way your family knows what to expect every holiday season at the start of the month.
---
That's it you guys 26 family Christmas traditions you can start now and do every year to get your family loving, sharing and showing kindness.
What's your favorite family Christmas tradition that you do from when you were a kid? Leave it in the comments below.
Want To Remember This Post? Pin The Image Below To Your Favorite Pinterest Board
You May Also Like:
28 Best Christmas Gifts For Babies First Year
What To Get Your Pregnant Wife On The Holidays