Looking for the Best Narrow Car Seats? Here is our Top Pick!
My best friend just had her third child, three under 4.
All of them are in car seats and when they brought the youngest home, they weren't sure how they were going to fit an infant car seat in the back with two convertible car seats.
So I did my research to find the best narrow car seat configuration for three.
When it comes to fitting three car seats in a row, you might be surprised just how careful you have to be with choosing a narrow car seat if you have to fit three in the back!
Our reviews can help you choose the best car seat for your tight-fitting situation.
How to Choose the Best Narrow Car Seats?
When choosing a narrow car seat, it is important to consider the following factors:
The width of the car seat. Find the smallest car seat that meets your needs and budget. If you get all three child seats, they should be no wider than 17″.
The size and weight of the child. Larger children are more likely to have outgrown the LATCH system. Some of the seats in our top three list below do not accommodate children over 40 pounds using LATCH connectors, while others can accommodate larger children or even special needs (i.e., the Diono Radian).
Installation options available for each seat. Do you need access to the LATCH? Does a particular seat have a higher weight limit using LATCH connectors? Is there good space on both sides of the car seat to install it tightly and securely?
The availability of features. Choose a car seat with all your must-have features as well as those that you might use sometime in the future. For example, if you think your next child might use LATCH in a high-weight infant seat, then get the Diono with that ability even if it is against your current needs.
Make a plan before buying. E.g., be careful when buying an infant car seat and convertible car seat together. Often the convertible car seats are only sold with their corresponding infant car seats, so if you find one you like separately, you may have to pay more than the price of the convertible car seat.
Fit with the stroller if needed. Note that many of these narrow car seats may not be compatible with any stroller systems on the market today. You'll need to make sure your chosen seats play nicely with your stroller, or you may have to purchase a secondary adapter.
When it comes to car seats, one size does not fit all. In fact, there are a variety of different types of car seats available on the market, each designed for a specific purpose and age group. And as parents know, when it comes to finding the right car seat for their child, they need to consider a variety of factors including weight and height restrictions.
In this article, we will review three types of narrowest car seats available on the market, with a focus on infant, convertible, and booster seats.
Narrowest Infant Car Seats
Narrowest Convertible Car Seats
Narrowest Booster Seats
The Best Narrow Car Seats
We are taking the top 3 from each of the types of narrow car seats and listing them for you here. You can find the extended reviews for more of our favorite and best narrow car seats below.
---
You might also like these articles :
---
The Best Narrow Infant Car Seats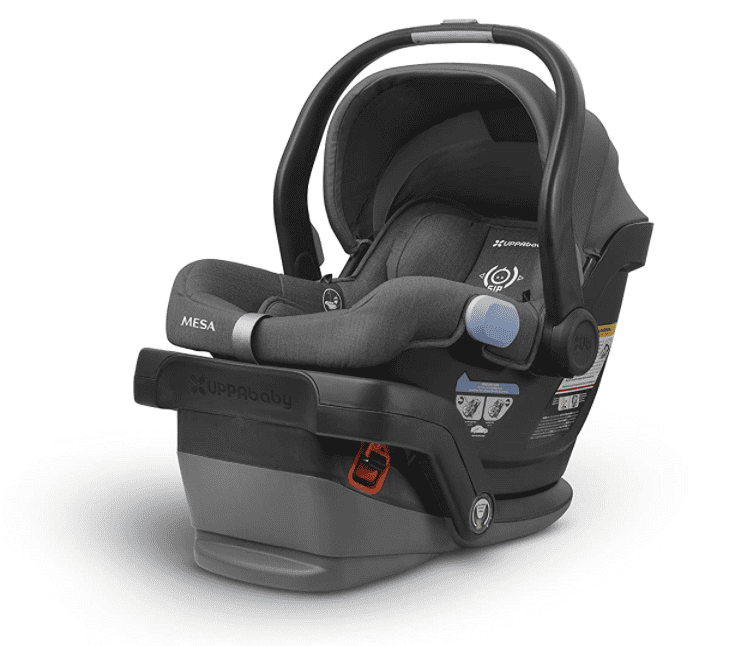 This is a narrow infant car seat that has a 14.5″ width with the base and the car seat itself standing at 17″ wide.
Overall, the UppaBaby Mesa is a wonderful car seat and consistently appears near the top of our annual list of the finest infant car seats. It offers not only beautiful looks but also outstanding safety credentials and an NHTSA 5-star rating. All of that style, security, and convenience comes at a price, with the Mesa costing about $300-$350.
The Mesa has some fantastic features for tight installations, including a unique self-tightening LATCH system and seat belt lock-offs. The popular European belt path may be used to install the sawneck without the base.
Installation near doors was like the Peg Perego, with the Mesa's main difficulties centered on door proximity. Because there was no anti-rebound bar or lock-offs, achieving a consistently correct seat orientation when installed near a door was tough.
If you weren't concerned about having a seat next to it in the middle sitting position, this wouldn't be an issue.
In addition, the Mesa's foundation is quite low-profile, causing it to have a relatively high ride height. Most of the time, it isn't an issue, but when the seat is so low down, adjustments are necessary.
The Mesa is wonderful, and it's an excellent bike for most people. We appreciate the safety features that aid in the installation process, as well as EPP energy-absorbing foam and side-impact protection.
We'd wish the Mesa came with an anti-rebound bar and a more robust belt tensioning system, which would go well with its tiny stance and make it one of the best choices for fitting three car seats in a row. It's still a fantastic option, but it isn't without competition!
Up near the top spot on our best overall infant car seat list, this is an awesome, highly functional, safe, well-built, and stylish narrow infant car seat. It is on the slimmer side coming in at 17″ wide with a 15″ wide base. The Chicco KeyFit 30 only weighs 9.6 lbs.
When you compare that weight to others on this list (other than the Fit2), that's only a bit heavier than most. The KeyFit 30 can be installed using the LATCH system or vehicle seat belts. The LATCH uses non-rigid strap-based LATCH connectors with a unique push-down and pull-up tensioning system similar to the Fit2.
What you might like:
Safety features: Side-impact protection and energy-absorbing EPS foam
Convenience: the harness height doesn't need to be re-threaded
Relatively low price point at $150-$200
What you might not like
With the seat belt installation, there is a shoulder belt lock-off that is not as useful or secure as most others on this list.
With no anti-rebound bar to stabilize the seat's orientation, installation next to a door becomes a bit difficult.
Thus, while it's definitely narrow and lightweight, and generally is an amazing infant car seat,
If you need to install in an outboard position, it isn't ideal.
Height range: Like the Aton 2, there is a relatively limited height range, and your child will likely reach that point before they turn two. As a basic specification, the Chicco KeyFit 30 supports babies and toddlers up to 30″ tall and weighs 4 to 30 pounds.
Bottom line:
It may be better to use Chicco's new KeyFit 35 rather than the KeyFit 30 since it is only 16.5″ wide and has an anti-rebound bar on the base. The lock-offs are the same, so it is unclear whether it would be better suited for installation next to the door.
#3. Clek Liing Infant Car Seat (16.9″ wide).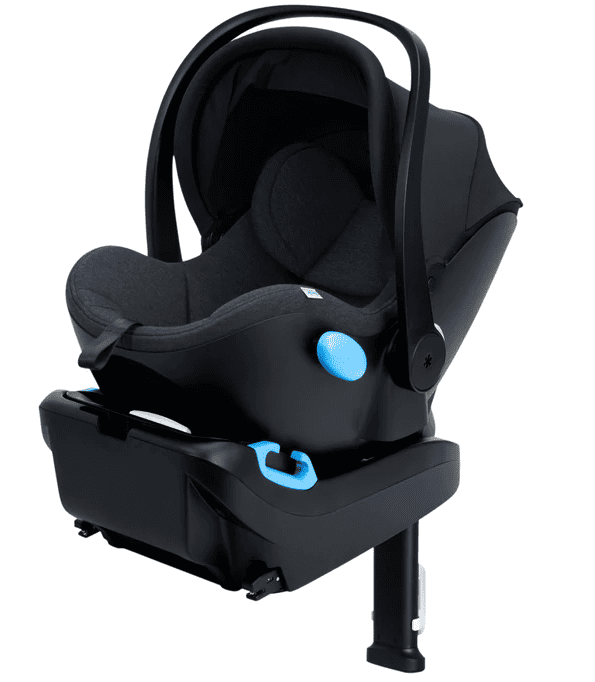 Clek is a Canadian company that designs and produces all of its car seats in North America, including not just the Clek Liing but also the popular Clek Foonf and Clek Fllo (convertible car seats), as well as the Clek Oobr (booster seat).
The base is extremely narrow, with the carrier itself no wider than 20 inches, to aid with difficult buckle configurations and the entire automobile seat sits up nicely in the vehicle (27″ from the bottom of base to top of handle).
The higher seated position allows you to obtain access to the buckles. The Liing employs robust LATCH connections that are only suitable for seating positions with the proper LATCH spacing (11″ apart).
Because most cars do not include a center LATCH position, if you want to use LATCH installation, the Liing may only be used on the outboard (left or right) seats. Some newer SUVs and minivans feature central LATCH connections that may allow for more customization during installation – it's worth taking a look.
When installed using the vehicle's seat belts, the Clek Liing uses lock-offs on the base to help achieve a stable and secure fit; in the manual, they call this a belt tensioner, and it works amazingly well.
What you might like:
We like that the Clek Liing is a narrow car seat that can fit easily into three-across scenarios.
The high seating position is also a plus, as it provides plenty of clearance for reaching your arms in to work with buckles and straps.
We also appreciate the belt tensioner, which helps achieve a stable and secure installation.
Additionally, Consumer Reports gave the Clek Liing a top score for safety, making it a great choice for parents looking for a reliable car seat option.
What you might not like:
The harness height needs to be rethreaded from the rear of the seat. This can be cumbersome for parents and caregivers who need to frequently adjust the harness height.
Bottomline
If you're looking for a narrow infant car seat that can accommodate children up to 30 pounds, the Clek Liing is a great option! This seat is 16.9 inches wide, making it one of the slimmest seats on the market, and it comes with a 13.2-inch-wide base.
#4. Nuna Pipa Infant Car Seat (17.5″ wide).
The exquisite Nuna Pipa is near the top of our list of the finest infant car seats, with its gorgeous design and refinement.
Nuna makes two highly popular car seats: the Nuna RAVA convertible seat and the Nuna Pipa infant seat. Both have excellent evaluations, not just from us but also from our friends at Babylist, WhatToExpect, and The Bump.
The Nuna Pipa is one of the narrowest infant car seats available, with a slim 17.5″ width and a 12.2″ base diameter. It's also one of the lightest; at only 5.8 lbs., it's just as lightweight as some other top-rated travel systems (including both Graco and Chicco models).
What you might like:
The Pipa is not only small enough to fit in tight rear seats, but it also has features that make it ideal for them, such as a compact shape and seat belt lockout (about 26″ tall from bottom of base to top of handle).
When using LATCH, the Nuna Pipa features solid LATCH connections. These are excellent for getting a solid installation, but because most cars do not have center anchors, you can only install the Pipa at outboard seats.
The integrated belt lock-offs make attaching this seat in any of the three backseat postions simple, and you may use the car's seat belt in any position. We noticed that it's quick to install this seat using the European belt path without the base.
The Pipa can transport kids weighing four pounds to 32 pounds, or 32 inches tall. The seat is only 8 pounds heavy, which is incredible!
What you might not like:
The only disadvantage is that you must rethread the harness to alter its height.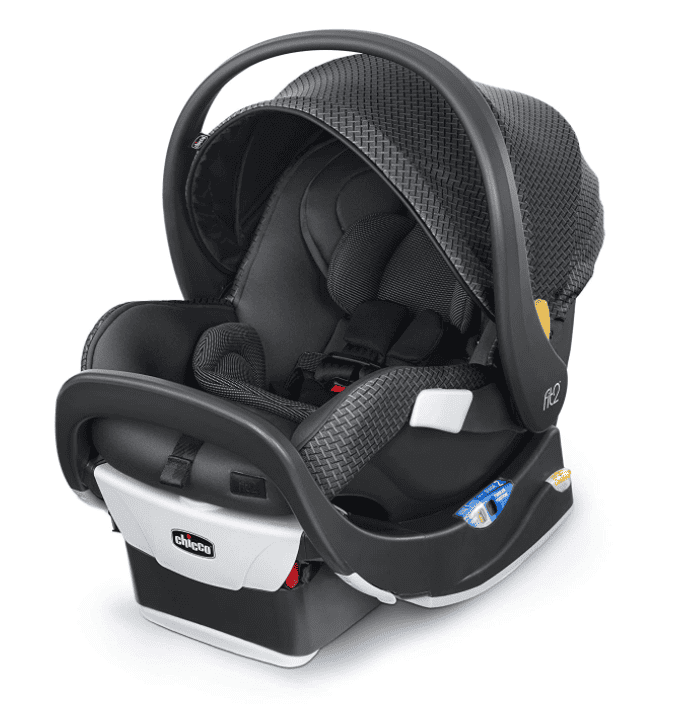 With superior safety, comfort, and versatility at an extremely reasonable price, Chicco KeyFit and Fit2 infant car seats are among the most popular infant car seats on the market today. Chicco's Fit2 infant car seat offers a 17″ wide car seat seated atop a 15″ wide base for a super narrow seat combination.
What you might like:
Cheaper: The Fit2's bases aren't as tiny as the Clek or Nuna, but they're still approximately half the size of a standard base. The Fit2 has a width of 17″ which is significant when fitting three car seats in a row.
Stability: To keep the base in position, it has an anti-rebound bar and seatbelt lock-off, which is especially essential when placed near a door.
Better for tall kids: The Fit2 does not protrude as far forward as other seats
Easy: Fit2 uses strap-based rather than rigid LATCH connections will make installation much easier, especially for those with restricted mobility. Installation is always simple with Chicco car seats, and this one takes the cake! The headrest and harness height may be adjusted without having to reattach the harness straps, making this car seat stand out.
No base needed: The car seat can be installed using either the American or European belt routing without the base.
What you might not like:
Heavier: The weight of the additional safety and convenience features is offset by the 9-pound heavier car seat.
Take up more room with the large base and might take some effort in tight quarters (due to the larger base and non-rigid LATCH) in comparison to the Liing or Pipa
The Graco Snugride has been around for decades, and it's a top infant car seat for safety and versatility. The Snugride Snuglock 35, especially the DLX, Elite, and Platinum models, are very narrow car seats.
Snugride is actually 18.31″ at its widest point with a base of 13.5″ wide. That's great for fitting three car seats in a row. This is where the Snuglock technology comes in handy; it's got a swing-arm that both tensions and locks off the seat belts for a super-secure fit.
This keeps the car seat from getting pushed around and ending up at a weird angle, especially when it's near a door.
What you might like:
The Snugride also doesn't protrude from the back as much as some competitors, so it's a good option for taller drivers and front passengers.
Safety features: side-impact protection, EPS energy-absorbing foam, a no-rethread harness, and headrest height adjustment.
Affordable: Snugride DLX, Elite, and Platinum models are usually selling between $150-200 – a fantastic price for such a versatile device.
What you might not like:
Installing with LATCH isn't quite as easy; if you don't mind crawling into the backseat to tighten the straps, this can help a lot.
No anti-rebound bar or load leg
Heavier: At 9 pounds, the Snugride is heavier than the Pipa, but lighter than the Fit2.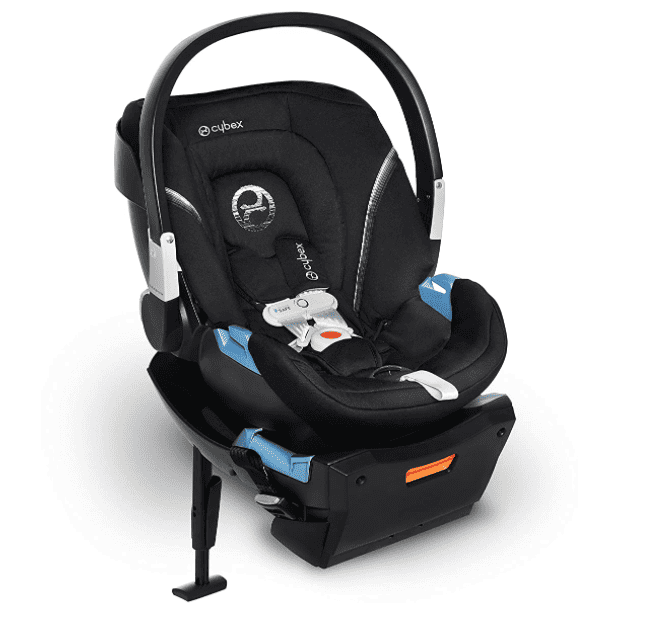 This is a very light, ultra-portable slim infant car seat with excellent safety features, a solid reputation for high quality, and European design and comfort.
The Aton 2 has much greater versatility in terms of narrow backseat arrangements, coming in at just 17.3″ wide. Because of the handles that protrude a bit on each side, it isn't quite as tiny as some of the other units (0.2″ on each side).
What you might like:
Safety: The Aton 2's adjustable load leg (which may not extend far enough to reach the floor in some high-center positions) not only aids in safety and keeps the base and car seat aligned properly when the seat is positioned near a door, but it also helps maintain alignment when compared to an anti-rebound bar.
Stable installation: The Cybex Aton 2 also has a built-in seat belt tensioner and lock-offs to assist with installation, and if you're using the LATCH system, it uses conventional strap-based (non-rigid) LATCH connectors.
Ultra-light: The Aton 2 is also portable, weighing in at 9 pounds and having several beneficial safety functions and superior crash test ratings.
Smart Safety features: the load leg, side-impact protection, energy-absorbing foam, and the SensorSafe system that syncs with your phone to alert you of dangerous situations (like leaving your child in the car).
What you might not like:
Short: For basic specifications, the Aton 2 supports babies and toddlers from 4 to 35 pounds or 30″ tall. Because your child is very likely to hit 30″ tall long before they hit 35 pounds, you might find your child sizing out of this seat relatively early.
Hardness adjustment: You'll need to re-thread the Aton 2's harness if you want to change the height.
Smaller: It is a small canopy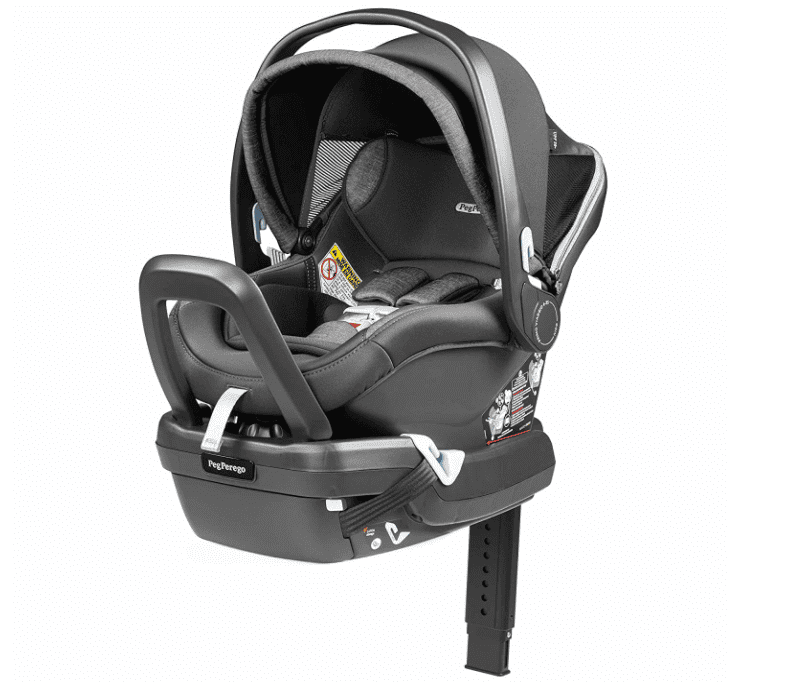 This is an excellent baby car seat and has been on our "Best Narrow Car Seats" for a number of great reasons. Moreover, the Primo Viaggio 4-35 infant car seat measures only 17.6″ wide at its widest point (where the handles connect to the sides of the seat), while the base is only 14.6″.
Apart from its narrow profile, there are a lot of great features to love about this top-rated infant car seat. This carrier has a great weight range starting at just 4 pounds with the infant insert and going up to 35 pounds (or up to 32″ tall) rear-facing.
It is ideal if you intend to install the infant car seat to the center position, especially if your vehicle has center lower anchors. With this car seat, you can rest assured that your baby will be safe and comfortable
What you might like:
Safety: It comes with an anti-rebound bar to reduce rotational force, side impact protection, and good crash test ratings.
With the included non-rigid strap-based LATCH connectors, the seat can be installed with the base or with the vehicle's seat belt with the lock-off built-in.
A modified American or European belt routing can be used to install it without the base. If the seat belt does not have sufficient length to use the European belt path, the modified American routing is used.
Harness convenience: height adjustments do not require re-threading for convenience.
What you might not like:
Might touch the front seat: The Peg Perego protrudes quite far from the rear seat in tight seating situations, which makes it less suitable for taller drivers or front-seat passengers.
Loosely attached: It was also difficult to get securely attached at an appropriate angle next to a door, but that was less of a concern.
A bit pricey: Stylish and luxurious, the Peg Perego is also rather pricey, coming in at roughly $300.
Best Narrow Convertible Car Seats
With a long history of quality, comfort, and safety, the Radian car seat is renowned worldwide. This is the third version of Radian car seats (hence the 3 in the model name).
The Radian 3RX, 3RXT, and 3RXR have different rear-facing weight limits and features. In rear-facing mode, all of them can support babies as small as 5 pounds, but the maximum weight limits are 40 (3R), 45 (3RX), and 50 (3RXT).
For all three models, the weight limit in harness mode is 65 pounds. However, in booster mode it's 100 pounds for the 3R and 120 pounds for the 3RX and 3RXT.
The 3RXT is recommended not only for its higher weight capacity, but also for its infant insert, cupholders, more substantial side-impact protection, and no-rethreading adjustable harness and headrest.
As a result, all three of them are capable of fitting three in a row. The Radian can be installed rear-facing by using a strap-based (non-rigid) LATCH connector or the seat belt of the vehicle.
Because the car seat is so heavy (28 pounds, by virtue of its steel-reinforced frame! ), the LATCH can only be used up to 35 pounds, after which you will have to install it with the vehicle's seat belt.
The only problem with convertible car seats is that they're not very easy to secure with seat belts, especially when they're rear-facing.
The Radian is also quite tall and, in rear-facing mode, it protrudes very aggressively from the back seat, which is not ideal for tall drivers or front passengers. In forward-facing mode, your child will be too heavy for the LATCH.
The good news is that belt-based installations are much easier and more stable when installed forward.
The bottom line:
The Radian is an excellent choice if you want to use it only as a forward-facing car seat, in harness mode, and then as a belt-positioning booster seat.
Radian, especially the 3RXT, is an excellent rear-facing system, but it might not be perfect for a smaller vehicle.
If you're looking for a narrow convertible car seat, the Britax Allegiance 3 Stage Convertible Car Seat is a good option. This car seat can fit into a small Ford Focus, and it's easy to install. The harness is adjustable and the car seat cover is easy to remove for cleaning.
The Allegiance is very straightforward to install and uninstall, thanks to push-button latch connectors and built-in lock-offs.
The Allegiance has a quick-adjust 10 position harness (8.5 to 17.5 inches) that grows along with your child and never needs rethreading.
The Allegiance's cover is removable without unbuckling the harness, so it's easy to clean up any messes that happen during your travels.
This car seat has side impact protection, a steel frame, an impact-absorbing base, and forward movement reducing V-shaped tether. There's also a comfortable head pad to cushion the baby's head.
The Allegiance can fit children from 5 to 40 pounds in rear-facing mode and up to 65 pounds when forward-facing, making it a good fit for a wide range of children.
Despite its narrow size, the Britax Allegiance 3 Stage Convertible Car Seat is a good fit for a wide range of children and has been designed for safety.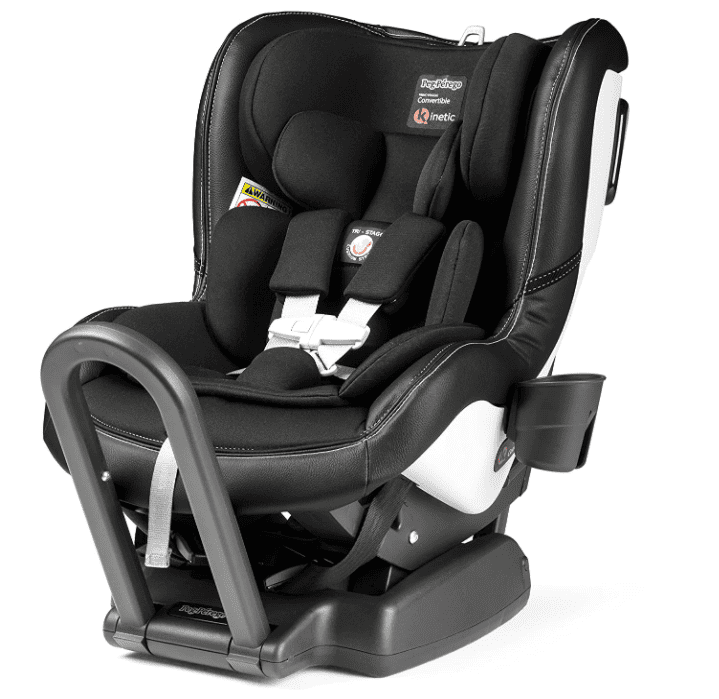 The Peg Perego convertible narrow car seat is an excellent, high-quality car seat option made by Peg Perego. Coming in at 14″ wide at its base and 18.66″ In addition to being wide at the torso, this is a versatile, reliable narrow car seat that will last you for many years to come. Plus, it's beautifully designed and manufactured in Italy.
Despite being wider at the torso than other car seats on this list, the super narrow base makes sharing backseat space with a rear-facing infant car seat much easier.
When used in rear-facing mode, it can be mounted with the included flexible (non-rigid) LATCH connectors or by using the vehicle's seat belts.
The rear-facing mode does not have an integrated lock-off. The LATCH connectors on the front of the seat can be attached to it with ease or they can be attached using the vehicle's seat belts with integrated lock-offs at the back.
Once your child reaches 40 pounds, you'll have to switch to the vehicle's seat belts instead of LATCH. In rear-facing mode, you are best served by installing the seat with the LATCH until your child is 40 pounds since there are no integrated lock-offs.
In this way, you'll be able to get a relatively stable installation, which is difficult to achieve with the vehicle's seat belts in rear-facing mode.
When you switch to a front-facing position, you will need to use the vehicle's seat belts, but there are lock-offs integrated into the harness that will help you achieve a stable and secure fit.
In order to install this car seat next to a door where another car seat was in the middle position, we had to use the vehicle's seat belts in rear-facing mode.
Additionally, it protrudes very far from the back seat, causing a reduction in front seat legroom when it is not positioned in the center.
In rear-facing mode, the Primo Viaggio narrow convertible car seat can support babies and toddlers from 5 to 45 pounds (with their heads at least 1″ beneath the top of the headrest).
In light of the new recommendation by the American Academy of Pediatrics, infants should be rear-facing for as long as possible (decades beyond their second birthday).
Here is another reason we love both this Primo Viaggio and the Radian (above). Suitable for children from 22 to 65 pounds, this narrow convertible car seat faces forward.
Peg Perego Primo Viaggio vs. Radian
You won't be able to convert it into a booster if you are considering Peg Perego vs. Radian. The newest Peg Perego convertible car seat features an anti-rebound bar, but its narrow contact with the rear seat does not help with stability near a door, as it absorbs energy.
As a narrow convertible car seat with some great features, Peg Perego convertible car seat is a great option, and it's one of the best convertible car seats in general.
The Baby Trend Cover Me 4 in 1 Convertible Car Seat is a great choice for parents who are looking for a car seat that can grow with their child. This car seat can be used in four different modes, and it comes with a built-in canopy that provides protection from the sun. The car seat also has a comfortable fabric that will keep your child comfortable during long rides.
It is easy to adjust the car seat, and you will be able to find a comfortable position for your child with ease. This product has been awarded as one of the best convertible car seats for 2018 by many websites that specialize in testing various products.
What you might like:
Affordable: selling usually around $150-$199
Canopy for UV protection: Height and angle adjustable canopy for in-car UV protection. The flip-out side visors provide additional shade protection for either side of the car seat.
Seating System with 4 positions: 1) Rear Facing Infant mode for babies from 4 to 18 lbs 2) Rear Facing Toddler mode for children from 18 to 40 lbs 3) Forward Facing Harness mode for children from 22 to 65 lbs 4) Belt Positioning Booster mode for children from 40 to 100 lbs
Comfort for Kiddos: Child can adjust the canopy quickly when car is in motion and sun is coming from multiple angles. CoverMe's exclusive Comfort Cabin offers extra padding to keep your child comfortable on a long ride.
No rethread harness needed for the integrated headrest. With three recline positions, front seat passengers will have extra legroom, and a flip foot that offers dual adjustments allows them to find the right angle with ease.
Fits three across: Although not the narrowest on our list, with a width of 18.25″, the Baby Trend CoverMe 4-in-1 Convertible Car Seat can fit three children across in most vehicles.
The narrowest convertible car seat from Graco. While the Graco SlimFit is not nearly as narrow as its competitors, and perhaps not appropriately named, it is 19″ wide at the shoulders and 17.5″ wide at the base when the cup holders are folded in.
This is the widest convertible car seat on this list!
Let's just say we want to make a point about this option not being narrow at all.
Why?
The seat is not as narrow as its competitors, and might not be suitable for fitting three car seats in a row in a relatively normal-size vehicle
In rear-facing mode, it can be installed using the LATCH or the vehicle's seat belt
In forward-facing mode, the car seat can be installed using the LATCH if your child is below 45 pounds, or with the vehicle's seat belt
There are no lock-offs for the seat belt in forward-facing mode
We definitely do not recommend using this seat in tight three-across scenarios unless you can use the LATCH, or you're only going to install in the center seating position
Narrowest Booster Seats On The Market
The hifold booster seat is a great choice for urbanites, ride-sharing drivers, and traveling families because it is lightweight, compact, and adjustable.
The hifold is a great example of a car seat that offers superior versatility in weight and height range. It adjusts itself to accommodate children as small as 33 pounds and as big as 100 pounds through a series of adjustments, including seat width (3 settings), torso/shoulder width (3 settings), head width (3 settings), and height adjustment (9 settings).
Features you might like:
Super compact and portable
Adjusts to accommodate children as small as 33 pounds and as big as 100 pounds
243 possible combinations for the perfect fit
Smooth and highly functional belt-positioners
Uses energy-absorbing EVA and EPE foam
Rigid polypropylene shell
The WAYB Pico Travel Booster Car Seat is a super-compact foldable narrow car seat that comes in at only 14.5″ wide! It can be installed in vehicles with only a lap belt (like airplanes, school buses, and vintage cars), a lap and shoulder belt, or using the LATCH system.
The Pico is perfect for children aged about 3-4 years old and weighs only 8 pounds! It's the perfect size for children aged about 3-4 years old. The harness height isn't adjustable, so in our opinion, the shoulder harness height seems a little high for a small 2-year-old, and a little low for a tall 5-year-old.
Note that this car seat weighs only 8 pounds!
It's the narrowest booster on our list (did we mention that it's only 14.5″ wide!?). It may be obvious, but it's FAA approved (with sticker) and meets all federal safety standards.
Tranzitions' 3-in-1 Harness Booster Car Seat allows your child to grow with you and go wherever you go – from the car to the carpool.
The Simply Safe Adjust Harness System, which allows you to adjust your harness and headrest to 8 height positions, with no rethreading, seamlessly transitions this lightweight car seat from harness booster (22 – 65 lb) to high back booster (40 – 100 lb) to backless booster (40 – 100 lb).
The seat pad, body insert, and harness covers can all be machine washed, and the cup holders can be removed for your child's convenience.
One caveat is about the installation. One customer reported a tip rephrased lightly below:
If you try latch first, the buckle adjuster might get in the way. If you only lock the seat belt, it might still not feel tight enough. You need to leave enough slack in the seat belt to pull horizontally as hard as you can until it is absolutely tight, then lock the retractor and tuck the excess in.
The Chicco MyFit Booster Car Seat is a 2-in-1 booster that is 17.5 inches wide and can be used for children from 25-100 pounds and 38-57 inches tall.
It can be installed using the included non-rigid LATCH straps or the vehicle's seat belt in forward-facing mode, and once your child is ready to transition to a belt-positioning booster, the five-point harness can be removed and it can be used for children from 40-100 pounds.
In belt-positioning booster mode, it can be secured in the seat using the LATCH when not being used.
When installed in this manner, the seat does include a shoulder belt lock-off to help secure it.
For a newborn, this seat is not ideal. A convertible rear-facing seat would be ideal. For my kids when they were younger, the Chicco NextFit was wonderful. It's recommended that children under 2 years old remain rear-facing for as long as possible (much longer than 27 pounds and 16 months).
We also saw many customers who reported positively about how this car seat saved their children.
Common Questions About Narrow Car Seats
Which Car Seats Are The Narrowest?
So which car seats are the narrowest? Let's summarize the absolute slimmest of the bunch.
Are Narrow Car Seats Not As Safe?
Every car seat on this list has been tested and tried and has passed numerous tests in order to be able to be put on the market for you and your family. Narrow car seats are just as safe as their bigger car seat friends.
How To Choose The Best Narrow Car Seat
When you're looking for a narrow car seat chances are high that you need to fit multiple kids in car seats in the back or you have a small compact car.
Because of this when choosing your car seat you should look for these things:
Easy installation
Width of base
Width of the widest point
Budget
Comfort for your child
Are Booster Seats Smaller Than Car Seats?
Yes, booster seats tend to be smaller than car seats because they do not have the 5 point harness to hold the baby in place. A booster seat is made for a larger child that will use the car seat belt along with sitting in the booster seat.
Is It Okay To Buy A Used Car Seat?
It is safer to buy a new car seat, if you do buy a used one please make sure that it is not expired. Car seats do expire and you do not want one that has gone past its due date.
You will also want to make sure you get the history of the car seat; has it been in any accidents, did any parts come off, how long was the child using this car seat?
Do Booster Seats Need To Be Anchored?
Booster seats do not need to be anchored as the seat belt that the child will wear across while sitting on the booster seat should be enough. You can however anchor and latch your booster seat if the seat comes with the proper latch items.
Final Thoughts
The bottom line is there are so many choices available when it comes to narrow car seats to carry you and your child through the various stages of car seat growth as they grow.
The best car narrow car seat for you and your family can be either an infant car seat if your child is still an infant, a convertible car seat, or a booster seat for toddlers and older children.
Let us know which car seat you went with, we'd love to hear from you in the comments below.
---
Want To Remember This Post? Pin The Image Below To Your Favorite Pinterest Board