This article collects the best date ideas and romantic things to do in Louisville for couples based on major travel, blogs, reviews, and social media sites.
There are numerous romantic activities available in Louisville. The city's biggest attractions are listed below, along with ideas for romantic dates. These activities, which range from fine dining to sightseeing throughout the city, are free to attend.
Imagine surprising your loved one with a last-minute trip to Louisville?
Imagine what it was like when you two first met.
Bring those emotions to the forefront as you read this article.
Here are 30+ romantic things to do in Louisville with your partner.
I like to travel but also be smart with money. Below are the places where I start my planning with.

– ✈️Flights, Hotel, Tours – I seek out Flash Sales to guide my planning 👉 Find good deals
– 🛡️Travel Insurance – I like to go to the source like Travelex instead of paying a broker 👉Here
– 🚗Car Rental – Rental will save you lots of headaches. Search, compare, and save first up to 30-50% on Discover Cars. 👉 Save Now
Links from affiliated brands I like.
Outdoor / Adventurous Date Ideas in Louisville To Have Fun
Try out the underground adventure at Louisville Mega Cavern
Cost: $20/person (ticketing)
Address: 1841 Taylor Ave, Louisville, KY 40213
Phone: +1 877-614-6342
"Extremely fun activity we did it for work but could do it with family or friends. Abby and Bambi were great and it was a lot of fun. Definitely walk up some hills and it's high but a lot of fun with 5 different zip lines." – Swiris
Visitors to Louisville can experience Louisville's history, geology, mining, and building technology in the Mega Cavern, a massive underground adventure. The only underground zip line course in the globe is also located there.
The enormous artificial cavern, formerly a limestone mine discovered in the 1930s, is one of 17 miles of passageways that run beneath the city and offers a variety of thrilling, instructive, and enjoyable excursions for guests of all ages.
Explore the cavern on an arduous roped path as part of a MegaQuest trip, zip line into previously unexplored areas, or board a Jeep-drawn MegaTram to go around its huge hallways and tunnels. All trips are led by trained professionals who are suitable for all ages.
Enjoy the outdoors at The Big Four Bridge
Cost: Free
Address: 1101 River Rd, Louisville, KY 40202
Phone: +1 502-574-3768
The Big Four Bridge, which connects Louisville, Kentucky, and Jeffersonville, Indiana, over the Ohio River valley, was formerly a railroad truss bridge.
The "Bridge That Goes Nowhere" is a six-span bridge built in 1895 that spans 2,525 feet (770 m) in length and 547 feet (167 m) in width. It was converted into a pedestrian and cycling bridge in 1969.
The bridge only allows for pedestrian and bicycle traffic, providing Louisville, Jeffersonville, New Albany, and Clarksville residents with beautiful and secure transportation between the cities.
Urban green spaces with playgrounds, lawns, fountains, pavilions, and other outdoor amenities may be found on both ends of the bridge.
Attend an event at Louisville Waterfront Park
---
You might also like:
---
Cost: Starts from $40-$100 (ticketing)
Address: 129 River Rd, Louisville, KY 40202
Phone: +1 502-574-3768
"I loved walking at Waterfront Park. The views were stunning, especially with all the city bridges. The Lincoln memorial area is also impressive." – Kate U
Along the Ohio River lies a city gorgeous park called Louisville Waterfront Park. The park was initially 55 acres of property that had previously been sand pits, scrap yards, and other industrial sites when it was first opened in 1999. The park currently spans 85 acres.
The park offers a view of the Ohio River and is home to numerous outdoor festivals and performances.
The Kentucky Derby Festival's annual opening ceremony, Thunder Over Louisville, is well-liked and well-attended. The park's amenities include the riverfront promenade, the Adventure Playground, the Lincoln Memorial, the Swing Garden, the Tumbleweed Southwest Grill, and many others.
Meet & Greet Animals at Louisville Zoo
Cost: Starts from $10-$16 (ticketing)
Address: 1100 Trevilian Way, Louisville, KY 40213
Phone: +1 502-459-2181
"The zoo was very nice and big.. my family and myself definitely enjoyed it!! Lots of walking but worth it the staff was very nice and helpful" – Mekia
In Louisville's Poplar Level area, on Trevilian Way, lies a zoological park known as the Louisville Zoo.
The zoo opened in 1969 and is also known as the Louisville Zoological Garden and the State Zoo of Kentucky. More than 1,500 creatures are displayed in the 134-acre zoo's natural habitats.
Africa, the Australian Outback, Glacier Run, the Gorilla Forest, and more are just a few of the displays. The zoo is renowned for its work with endangered animals and conservation activities.
The Conservation Carousel, ZooTram Shuttle, Zoo trains, and a petting zoo are some of the zoo's other amenities. Concessions, playgrounds, and gift stores are also available in the zoo.
---
You might also like these articles :
---
Cruise through the Belle of Louisville
Cost: $15/person (ticketing)
Address: 401 W River Rd, Louisville, KY 40202
Phone: +1 502-574-2992
The Belle of Louisville is a U.S. National Historic Landmark and the oldest riverboat still in service on the Mississippi River. The riverboat served as a ferry between Memphis, Tennessee, and West Memphis, Arkansas, and it was launched out of Pittsburgh, Pennsylvania, in 1914.
Later, it served as a transportation hub for guests traveling between Louisville and the Rose Island and Fontaine Ferry theme parks. The steamer underwent substantial repairs and reconstruction in 1963. Today, several Ohio River cruises are available on the Belle of Louisville.
Music, Art, Historic, Educational, Cultural Date Ideas in Louisville
Taste the local history at Kentucky Derby Museum
Cost: Starts from $8-$15 (ticketing)
Address: 704 Central Ave, Louisville, KY 40208
Phone: +1 502-637-1111
The Kentucky Derby Museum honors, entertains, and informs visitors about the unique Kentucky Derby event.
The Kentucky Derby Museum, one of the top sights in the Louisville area, offers a look at the tradition, local and national history, and hospitality of this renowned event. One of the biggest Louisville attractions is the Kentucky Derby Museum.
The Guinness World Record-breaking Largest Horseshoe, the Resident Thoroughbred, Miniature Horse, and The World's Greatest Race are just a few of the top attractions at the museum that have drawn admirers from all around the globe.
The Greatest Race exhibition, a cutting-edge 360-degree high-definition film, a historic walking tour of Churchill Downs Racetrack, and access to all permanent and rotating exhibitions and displays are all included with museum admission.
Explore the Historic Frankfort Avenue
Exploring Frankfort Avenue (Louisville, Ky) on a Super73
Cost: Free
Address: Frankfort Ave, Louisville, KY
Phone: N/A
Locals refer to Frankfort Avenue as "The Avenue," which connects several of Louisville's most quaint and exciting districts.
The American Printing House for the Blind, the Louisville Water Company, distinctive and locally owned boutiques, trendy contemporary art studios, galleries, and bustling cafés and restaurants are just a few attractions in this energetic corridor.
Other nearby landmarks include the historic Peterson-Dumesnil House.
A wide range of dining options, including alfresco and fine dining, are offered by more than 30 locally owned restaurants. In contrast, many boutiques and stores offer everything from vintage furniture, clothing, and outdoor gear to home furnishings, wine, and literature.
If you are wondering what to do in Louisville, Kentucky, today, this is a great place to start exploring.
Educate yourself at Kentucky Science Center
Kentucky Science Center
Cost: Starts from $11-$20 (ticketing)
Address: 727 W Main St, Louisville, KY 40202
Phone: +1 502-561-6100
"We really enjoyed our visit to this museum. The exhibits were interesting and educational and the location accessible. As two adults, we even had fun with exhibits targeted at small children. An excellent time." – Pedro
The Kentucky Science Center is the biggest interactive science museum in Kentucky. It is situated on West Main Street on Louisville's "Museum Row" in the West Main District of downtown.
The Louisville Science Center was once known as the Louisville Museum of Natural History & Sciences and was first established in 1871.
Two adjacent structures make up the center. The Kentucky Science Center is a terrific place to go if you're seeking entertaining activities in Louisville, Kentucky.
The principal 150 000 square foot structure was constructed in 1878 as a storehouse for dry commodities. The 37,000-square-foot Alexander Building, the second structure, was constructed in 1880.
The facility now has a four-story digital theater, a Science Education Wing with hands-on workshop labs, and three floors of interactive exhibits.
---
You might also like these articles
---
Pay tribute to champion boxer Muhammad Ali at Muhammad Ali Center
Cost: Starts from $9-$14 (ticketing)
Address: 144 N 6th St, Louisville, KY 40202
Phone: +1 502-584-9254
The Muhammad Ali Center is a museum and cultural space dedicated to Muhammad Ali, a boxing champion. The museum, a part of Louisville's "Museum Row," was established in 2005.
A 40,000 square foot, two-level theater, interactive exhibits, galleries, and a plaza are all included in the six-story structure. 2013 saw the addition of a walkway linking the center to additional downtown attractions.
A simulated boxing ring that was modeled after Ali's Deer Lake Training Camp is one of the exhibits. His history and boxing artifacts are on exhibit in a two-story gallery. Films, seminars, and tours are just a few of the center's educational outreach programs.
Take a historic tour of The Conrad-Caldwell House Museum
Cost: $10/person (ticketing)
Address: 1402 St James Ct, Louisville, KY 40208
Phone: +1 502-636-5023
A significant home in Old Louisville's St. James-Belgravia Historic District is the Conrad-Caldwell House Museum. It was known as "Conrad's Castle" after Theophile and Mary Conrad, who commissioned its construction in 1893.
The house was constructed in what is known as the Richardsonian-Romanesque style using Bedford limestone.
Conical, hexagonal, and pyramidal towers and turrets may be seen outside, along with numerous ornaments like gargoyles, carved animals, and other items.
High ceilings, stained glass windows, carved fireplaces, and parquet floors with quilt-like designs are all interior features. The old home can be rented for events like weddings, and the speed art museum offers guided tours.
Celebrate your anniversary at Whitehall House & Gardens
Cost: $10/person (ticketing)
Address: 3110 Lexington Rd, Louisville, KY 40206
Phone: +1 502-897-2944
On Lexington Road in Louisville, Whitehall Mansion & Gardens comprises a historic house and surrounding gardens.
The first house, a two-story brick Italianate-style structure built by John Marshall circa 1855, was situated on 20 acres of land through which Bealls Branch, a branch of Beargrass Creek, flows.
After multiple ownership changes, John and Betty Summers Middleton acquired the property in 1909. During this period, the home underwent a comprehensive renovation to become a mansion in the Greek Revival style popular in the South.
The home was renovated in 1994 when the house, grounds, and furnishings were donated to the Historic Homes Foundation.
Today, the mansion and gardens are open for visits, and the site is a well-liked location for weddings and anniversary events.
Go back in time at Frazier History Museum
Cost: $14/person (ticketing)
Address: 829 W Main St, Louisville, KY 40202
Phone: +1 502-753-5663
The Frazier History Museum is situated in Louisville's downtown West Main neighborhood on "Museum Row." The museum, which bears the name of its founder Owsley Brown Frazier, includes three floors and 75,000 square feet of display space in addition to a 120-seat theater.
The museum's collection spans the sixteenth to the twentieth centuries and contains domestic and foreign antiquities. The Bible of Daniel Boone, the guns of General Custer, and President Theodore Roosevelt's "Big Stick" are just a few of the collection's highlights.
There are temporary displays and permanent collections, some of which are interactive. Numerous educational activities and events are held in the museum.
---
You might also like these articles
---
Catch a show at The Louisville Palace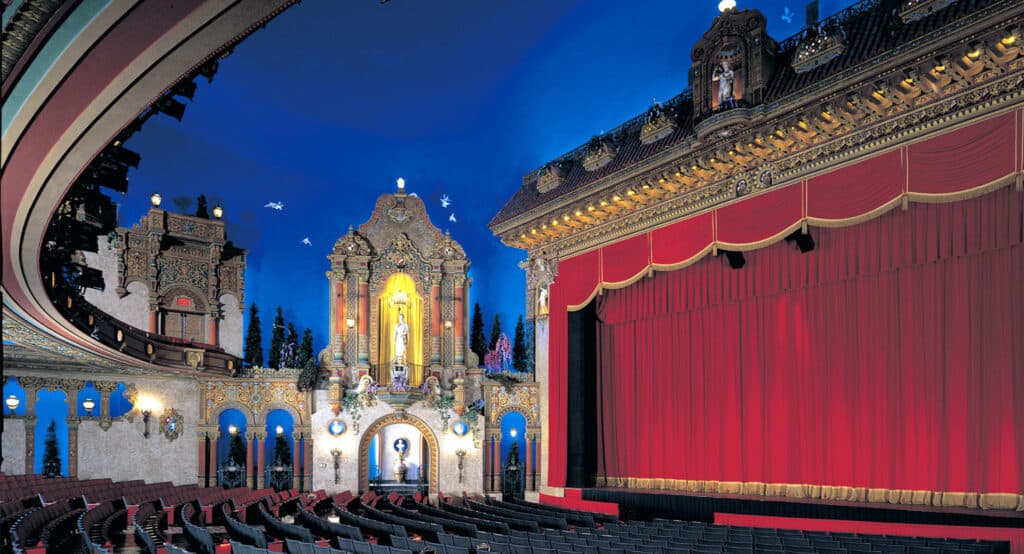 Cost: Starts from $20-$200 (ticketing)
Address: 625 S 4th St, Louisville, KY 40202
Phone: +1 502-583-4555
The Louisville Palace is a heritage theater built in 1928 and is situated on South Fourth Street in the heart of Louisville's theater area. The 2,700-seat theater hosts various events, including concerts, movies, performances by the Louisville Orchestra, and kid-friendly shows.
The building's facade is elaborate and has numerous turrets; it was constructed in the Spanish Baroque style.
The palace's interior is equally elaborate and listed on the U.S. National Register of Historic Places. The lobby's arching vaulted ceiling is adorned with 139 sculptures of well-known historical people. The theater has two floors: the main floor and the balcony.
Take a glimpse of victorian architecture at Old Louisville
Cost: $15/person (tour)
Address: Old Louisville, Louisville, Kentucky
Phone: N/A
Old Louisville is a historic neighborhood that may be found south of Broadway, downtown Louisville, and north of the University of Louisville. It is the third-largest historic district in the United States and has 48 city blocks.
It contains the most significant number of homes with stained glass windows and is the country's largest district, almost entirely of Victorian buildings.
Most of the structures are made of brick and were constructed in various Victorian architectural styles, such as Italianate, Queen Anne, and Romanesque.
Despite being referred to as Old Louisville, this region was developed as a suburb of Louisville in the 1870s, about 100 years after the city's establishment.
Experience the 18th century structures at Locust Grove
Cost: $8/person (ticketing)
Address: 561 Blankenbaker Ln, Louisville, KY 40207
Phone: +1 502-897-9845
"We so enjoyed the time in the home and walking the property, as well as the Antique market the day we were there. Incredible history for our country." – Rob
The farm and home known as Locust Grove are designated as U.S. National Historic Landmarks. A Georgian home constructed in 1792 by William and Lucy Clark Croghan is located on the 55-acre property.
The famed explorers stayed at this home after their voyage since Mrs. Crogan was William Clark of the Lewis and Clark Expedition's sister.
James Monroe and Andrew Jackson were the American Presidents who visited the residence. James Audubon, a painter, also visited this location.
The estate was bought by Jefferson County and the State of Kentucky, and after considerable repair, it was made public in 1964.
Purchase the fascinating art at Flame Run Glass Studio and Gallery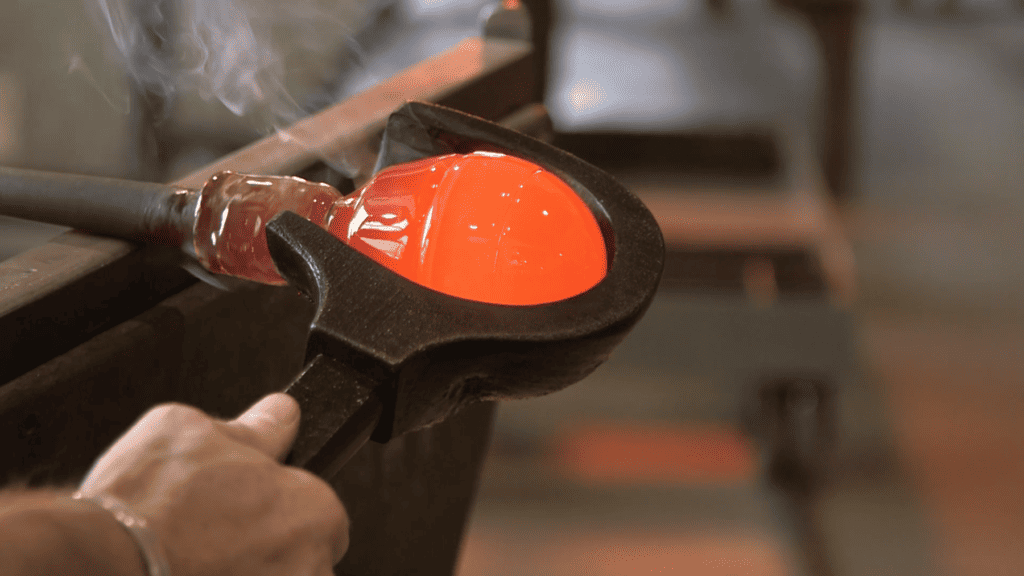 Cost: $6/person (ticketing)
Address: 815 W Market St, Louisville, KY 40202
Phone: +1 502-584-5353
Flame Run Glass Studio and Gallery are committed to showcasing the exquisiteness of glass blowing and glass art through community lessons, hot glass demonstrations, exhibitions of modern glass art, and seminars for visiting artists.
The art glass studio, close to the Kentucky Museum of Art and Craft, has a working hot shop for glassblowing, a welding and fabrication studio, and an exhibit gallery where customers can see and buy works by the studio's twelve resident artists.
Additionally, the studio provides glass blowing lessons, workshops, daily glass blowing demos, and after-hours group activities. The gallery and observation area is open to the public without charge.
Feel the magic in the air at The Mercury Ballroom
Cost: Starts from $50-$100 (ticketing)
Address: 611 S 4th St, Louisville, KY 40202
Phone: +1 502-583-4555
"What an awesome place for a concert! Nice small venue. Incredible sound system, also helped a lot when we saw Walk Off the Earth there!" – John
The Mercury Ballroom, inside the Wright and Taylor Building from the Prohibition era, is one of Louisville's trendiest locations for live concerts and music events.
Due to its unconventional late gothic revival and Tudor revival façade made of glazed architectural terracotta, it is simple to identify on 4th and Chestnut streets.
As you walk in, you'll notice that the venue has one of Louisville's most incredible sound and lighting setups.
The performers who have performed here have included rock bands Mayday Parade and Ghost, in addition to tribute bands banging out your favorite songs.
Watch live plays in multiple theaters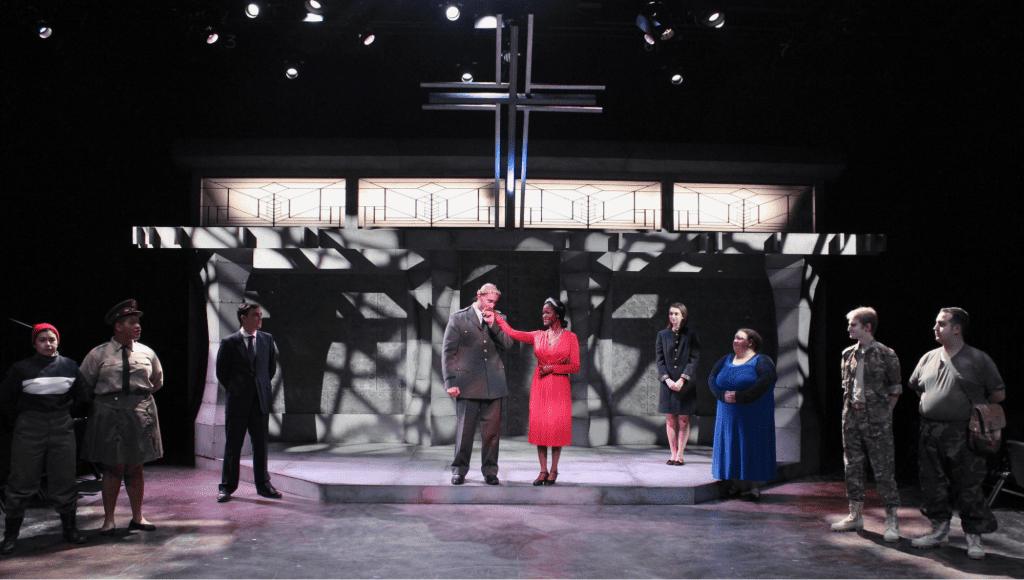 Cost: Starts from $40-$70 (ticketing)
Address: 316 W Main St, Louisville, KY 40202
Phone: N/A
A performing arts center called Actors Theater of Louisville has been producing vibrant lineups of live plays and Broadway musicals since the 1960s.
Along with premier plays, the theater frequently offers community outreach initiatives like training, seminars, and workshops. It also hosts free galleries where visual art is displayed during exhibits and theater tours.
Classics, including A Streetcar Named Desire and Steel Magnolias, as well as canonical plays like Dracula, A Christmas Carol, and Romeo and Juliet, are among the prominent productions shown here.
The plays are performed in the three performance spaces at Actors Theater of Louisville—the Pamela Brown Auditorium, which has mezzanine-level balconies, the Bingham Theater, and the Victor Jory Theater.
Hit the back patio at Stevie Ray's Blues Bar
Cost: Starts from $20-$50 (ticketing)
Address: 230 E Main St, Louisville, KY 40202
Phone: +1 502-582-9945
The best place in Louisville to enjoy live blues, jazz, and even rock music is Stevie Ray's Blues Bar, which is open six nights a week.
The atmosphere is very relaxed and casual, and the well-stocked bar serves cold beverages to make your evening even more enjoyable.
Live bands perform many genres of music and current hits, while headlining acts frequently start their one-hour concerts at 8:00 pm.
If you feel hungry in the middle of the night, you can get sandwiches from the food truck that is frequently stationed in front and bring them inside. If you want to relax or converse while sipping a spicy Bloody Mary or margarita, head to the rear terrace.
Have a laughter therapy at The Caravan Comedy Club
Cost: $30/person (ticketing)
Address: 1250 Bardstown Rd, Louisville, KY 40204
Phone: +1 502-459-0022
In Louisville, the Caravan Comedy Club is the place for belly laughs with friends. Along with the roster of talent doing funny stand-up routines, the show schedule also includes music performances, competitions, and other forms of entertainment.
Doors typically open at 6.30 pm, and shows begin at 7. This gives you ample time to look at the food before you head to your seat and the opening acts come on.
Come by on a Wednesday night for their open mic sessions, which feature upcoming talent, or if you want to try your hand at telling jokes.
Indoor / Relaxing / Foodies Date Ideas in Louisville
Sample the crafted beer at Angel's Envy Distillery
Cost: Starts from $20-$40 (beer)
Address: 500 E Main St, Louisville, KY 40202
Phone: +1 502-890-6300
Father and son came up with the idea for Angel's Envy Distillery in 2006. In July 2013, three generations of the Henderson family joined in breaking ground on the distillery near Louisville, Kentucky.
Visitors may now witness the urban distiller in full action and enjoy a behind-the-scenes tour of the Main Street distillery.
They can observe the entire distillation process, from the beginning to the finished product in the bottle, and they may taste the final product inside the Finishing Room to cap off their tour.
It is advised that visitors reserve their tour online at least a week or two in advance.
Savor some soulful food at The Mayan Cafe
Cost: Starts from $35-$70 (food)
Address: 813 E Market St, Louisville, KY 40206
Phone: +1 502-566-0651
The Mayan Café is a farm-to-table eatery with an indigenous design that serves traditional Mayan food from Mexico's Yucatan peninsula.
The Mayan Café, which is situated in the East Market Gallery District and has a lively atmosphere, blends in perfectly with the hip area thanks to its soulful cuisine that is constantly growing.
Head chef Bruce Ucán, a native Mayan from Mexico, combines fresh, locally obtained ingredients with traditional Mayan flavors and cooking techniques to create unique and delectable dishes that draw on his rich Yucatan history.
The Yucatec Salbutes and cochinita pibil are two examples of the classic Mayan foods on the menu.
Others, like Chef Bruce's twist on chilaquiles, are a contemporary interpretation of an age-old cuisine. Signature cocktails, aperitifs, flights of tequila, and other tempting drinks are available on the beverage menu.
Chillax at The Bard's Town
Cost: Starts from $40-$120 (food)
Address: 1801 Bardstown Rd, Louisville, KY 40205
Phone: +1 502-749-5275
The Bard's Town offers customers a unique dining experience by combining superb food, fantastic entertainment, and a comfortable lounge.
Tybalt's Tomato Bisque, the St Francis BBQ Bacon Burger topped with bacon, cheddar, and BBQ sauce, and the First Folio Fish of fresh Atlantic cod served on marble rye with savory remoulade sauce are just a few of the delectable treats on the Shakespearean-themed menu at The Bard's restaurant.
Before finishing with something sweet from the dessert menu, such as Triple Chocolate Cake or Key Lime Pie, try the Lord Chamberlain's Fin, which is fresh cod tacos filled into soft tortillas with remoulade sauce and freshly made salsa.
Vegetarians can happily tuck into the "To Bean, or Not to Bean" Black Bean burger. An array of fountain drinks, iced teas, and coffees are also available.
Take the cuisine with a creative twist at Jack Fry's
Cost: Starts from $25-$50 (food)
Address: 1007 Bardstown Rd, Louisville, KY 40204
Phone: +1 502-452-9244
Jack Fry's was founded in 1933 by Jack Fry and his wife, as evidenced by the numerous old photos that line the walls of the current Jack Fry's. Jack Fry's was a well-known hangout for athletes.
Today, Jack Fry's is a well-known icon in Louisville and has established itself as a staple of the city's culinary scene on both a local and national level.
The Cafe serves up authentically American and European fare for lunch and dinner with a modern touch.
Entrees include delicious veal tenderloin with garlic whipped Yukon gold potatoes, kale, poached eggs, and porter-espresso reduction, as well as lamb chops with potato au gratin and haricot verts.
Starters include shrimp, grits, scallops, escargot, and roasted duck breast. Indulge in a sweet Dulce de Leche Cheesecake with a graham cracker crust, rich ganache and pecan brittle, and a freshly brewed coffee or digestif.
Relish a fine dining experience at The Cafe
Cost: Starts from $30-$80 (food)
Address: 731 Brent St STE 102, Louisville, KY 40204
Phone: +1 502-589-9191
"We were there on a Sunday for brunch. The food was fantastic. The Mimosa was pretty good too. They had a string group playing music in the main dining area. We sat at the bar as there was no wait for that. Service was great. Enjoyed the pottery shop connected to the cafe as well." – Lisa R
The Cafe is situated in a beautifully restored former warehouse beneath the railroad bridge off of East Broadway in the Parishtown district of Louisville.
The dining area inside is cheerful and vibrant, and the wonderful patio outside is delightful with cozy furniture, blooming plants, a fishpond, and a waterfall.
With generous quantities, seasonally fresh ingredients, and distinctive flavors, the café delivers traditional American meals with a Southern touch. The café is the ideal location for a romantic meal.
Have a wild night out with dueling pianos and bucket drinks
Cost: Starts from $15-$40 (drinks)
Address: 434 S 4th St, Louisville, KY 40202
Phone: +1 502-532-4695
Howl at the Moon Louisville is an excellent venue in Fourth Street Live! Entertainment complex where you can spend a fun night dancing and sing along to dueling pianos.
The pianos, which serve as the show's centerpiece, frequently bring out everyone's best singing, and they periodically intersperse some amusing acts to keep the audience cheering.
Most musicians are multi-instrumentalists capable of playing instruments other than the piano. They perform in a variety of musical genres as well.
Don't forget to obtain novelty bucket cocktails from the hotel bar to aid in lubricating both your vocal cords and your evening as the party atmosphere increasingly intensifies throughout the evening.
Satisfy your cravings for whiskey at Haymarket Whiskey Bar
Cost: Starts from $10-$30 (Whiskey)
Address: 331 E Market St, Louisville, KY 40202
Phone: +1 502-442-0523
"Wonderful local bar with an unbelievable selection of bourbon. I love the flights they offer. Service was exceptional. They leave the bottle in front of you so you can learn more about what you are drinking. I will definitely return." – David H
The energetic Haymarket Whiskey Bar in Louisville has a wide selection of whiskeys, a specialty bottle shop, and a vintage arcade. In addition to 2 Skee-Ball lanes, the bar's arcade also has a live music stage, which makes it an excellent choice for a fun night out with friends in the city.
The bar is located on the border of Louisville's Whiskey Row, on E Market Street. It is located inside a small, 1885–era red brick structure.
Haymarket boasts the most extensive collection of private barrels in the city, so selecting from the 400 whiskeys and 250 distinctive bourbons may be difficult. Visit the front bar for free events every day of the week, including DJ sets at midnight and screenings of classic skate videos.
It's no less than a rooftop bar with all the amenities.
Active and Youthful Date Ideas in Louisville
Spend a cheerful day at Churchill Downs
Cost: $30/person (ticketing)
Address: 700 Central Ave, Louisville, KY 40208
Phone: +1 502-636-4400
The famed Kentucky Derby and the Kentucky Oaks, two of the longest-running athletic events in America, are held at Churchill Downs.
The thoroughbred racetrack, established in 1875 on Central Avenue in south Louisville, has three race meets each year and has played host to the Breeders' Cup World Championship no fewer than eight times.
The 147-acre racetrack has an oval-shaped one-mile dirt racetrack and a seven-furlong turf circuit.
In addition, Churchill Downs has a storied grandstand crowned with the Twin Spires, the racetrack's well-known emblem, and a gorgeous clubhouse with exclusive luxury suites and The Big Board, the most significant 4K television screen in the world.
Enjoy a game of baseball at Louisville Slugger Field
Cost: Starts from $10-$230 (ticketing)
Address: 401 E Main St, Louisville, KY 40202
Phone: +1 502-212-2287
"We had so much fun at the game. We went during Thunder Over Louisville and saw a airshow during the game. The stadium is 360, so you can walk around the whole thing. We spend most of the time in center field near the bar." – Jessa Olson
The Louisville Bats baseball team and Louisville City FC professional soccer club call Louisville Slugger Field, a baseball stadium with more than 13,000 seats, home. It was first opened in 2000.
The stadium is distinctive in that an old railroad shed, once the Brinly-Hardy Company warehouse, has been incorporated into its design. Visitors enter the stadium through this train shed.
Additionally, it has a play area, 32 private rooms, restaurants, and press facilities. The stadium offers spectators a view of both Indiana and the Ohio River.
Baseball lovers should schedule some time to travel to the Louisville Slugger Museum & Factory, where you can take guided tours of the facility and see bat-making demonstrations.
Try your luck at Louisville's late-night gambling house
Cost: $20/person (ticketing)
Address: 4520 Poplar Level Rd, Louisville, KY 40213
Phone: +1 502-961-7600
With roughly 1,000 fun games and slot machines in its collection, Derby City Gaming in Louisville fills the void left by the absence of traditional, commercial, Vegas-style casinos in the area.
Because Kentucky only allows wagers on horse races, there are no standard slot machines or table games like poker or blackjack.
Instead, you can spin and win on vintage horse racing and mobile slot machines. Along with many other titles, there are some like Super Charged 7s, Bridgette's Biergarten, and Triple Action Dragons.
Surprisingly, the majority do resemble slot machines in both appearance and operation.
Nature-Inspired Date Ideas in Louisville
Go picnicking at Beckley Creek Park
Cost: Free
Address: 1411 Beckley Creek Pkwy, Louisville, KY 40245
Phone: +1 502-584-0350
"With plenty of trails and paths for hiking and biking, Beckley Creek Park is our family favorite. Plenty of room to fly a kite, scooter, walk, look at wildflowers and enjoy the outdoors." – Cindee
A sizable park called Beckley Creek Park can be found south of Valhalla Golf Club and east of Louisville's city center. It has a water park, picnic spots, and pathways and is a component of the Parklands of Floyds Fork network.
The Egg Grass, a 22-acre egg-shaped lawn, is a well-liked location for soccer, frisbee tossing, kite flying, and festival-going.
There are numerous trails, including the Valley of the Giants Trail, the Fisherman's Trail, and the Black Willow Trail.
The park has two places where canoeists and kayakers can paddle. Numerous events, such as field trips, scientific camps, scout programs, and others, are held at the park.
Top 15 Places & Things To Do In Louisville, Kentucky | Wanderlust
Final Thoughts
Louisville, Kentucky, is a beautiful city. The city's attractions are museums, old structures, historic sites, historic buildings, romantic getaways, hiking trails, city tours, boat tours, amusement parks, food events, and renowned eateries.
We hope you will enjoy all the places on this list.
Have a beautiful time in Louisville.
Thanks for reading!
Make your money go further with these resources for your next trip!

– ✈️Flights, Hotel, Tours – I seek out Flash Sales to guide my planning 👉 Find good deals
– 🛡️Travel Insurance – I like to go to the source like Travelex instead of paying a broker 👉Here
– 🚗Car Rental – Rental will save you lots of headaches. Search, compare, and save first up to 30-50% on Discover Cars. 👉 Save Now
Links from affiliated brands I like.