If you are looking for ways to announce your pregnancy with fall pregnancy announcements you have come to the right place.
Most parents who are expecting in the spring and are well into the second trimester (or end of the first trimester) are looking for ways to tell the world that they are expecting.
Using the season of fall is such a beautiful and smart thing to do in your pregnancy baby announcement.
This post may contain affiliate links. For my full disclosure see here.
What Should I Include In My Pregnancy Announcement?
This depends on parents to be, some like to have the ultrasound showing while others will take pictures of just a belly and their partner.
You can also add / do some of these items to make your fall announcement very festive.
Small Pumpkins
Being Outside (during sunset hour)
Ultrasound Pictures
Matching Sweaters
Fall Leaves
When Should I Announce My Pregnancy?
Typically most expecting families will wait until the end of the first trimester to make sure that they do not miscarry or have any issues with the pregnancy before telling friends and social media. But honestly you can tell the world whenever you want to and feel ready.
It really is up to the expecting parents to make the decision and decide when they want to spill the pumpkin seeds.
---
Scared of going into labor, pushing, and tearing? Maybe you're afraid of pooping on the table? Fear is common when it comes to childbirth – don't let it hold you back, be fearless.
---
Should I Hire A Photographer For My Pregnancy Announcements?
Just like when to tell people, this is also your choice. You can hire someone amazing, you can take your own, have your mom take the pictures.
The Best Fall Pregnancy Announcements
Announce your pregnancy this fall with the cutest fall pregnancy announcements this year! See how other parents have done it and get inspired to do something similar with your own little spin.
Let's dive right in.
1. Pregnancy Fall Announcement: Felt Board In Leaves
This fall pregnancy announcement is perfect, it is simple and thoughtful. Using their last name as a way to announce the baby is very clever.
Don't have that cool last name, not a problem you can still use a felt letter board to announce your pregnancy.
From: @life.style.moore
2. Fall Baby Announcement: Pumpkin Belly
You can do something similar if you:
Dress up for the photo shoot
Get a large pumpkin
Have your partner in the picture with you
Take pictures during the golden hour (one hour before sunset or just at sunrise)
From: @capturedbykay
3. Fall Is In The Air Printable
Sending out a custom made fall pregnancy announcement to your friends and family is such an exceptional way for family and friends to find out that you are pregnant.
Easily make this baby announcement by: creating an account on CANVA, searching for 'fall season' in the flyer section, use the fonts you'd like and change any items you want.
4. Adding A Pumpkin To Your Patch
How cute is this couple showing off the three pumpkins and how they will be adding a pumpkin to their patch. Thank you @capturedbykate for this stunning image!
Copy their style by: dressing up for your pictures, getting your pumpkins before going to the photo shoot, grabbing a chalk board.
5. Letterboard For Rainbow Babies
Letter boards are really great if you are still practicing social distancing. this way you can let the world know without having a photographer or going outside. You can do this in the comfort of your own home.
You can grab this same letter board here.
6. Pumpkin Measurements
Depending how far along you are in your pregnancy, doing a little pumpkin comparison can be really cute.
If you are not to far along you can always use a smaller pumpkin to represent your growing baby in the picture. Just have your partner hold the smaller pumpkin while you guys take your fall pregnancy announcement pictures.
7. Fall Pregnancy Maternity Shoot
We think this is so cute. See how mom and dad to be are semi matching with her bodycon dress and his cardigan being a similar color.
Do something similar by: Choosing your location wisely and having your photographer or your friends take pictures of you with the fall foliage behind you.
8. Coming Soon Fall Pregnancy Announcement
How cute is this fall pregnancy announcement from @sincerely_sarahd. We love this picture and now they have their perfect little pumpkin! How sweet.
Do something similar: get a stencil ready to paint your pumpkin, go to the pumpkin patch, choose your pumpkins and sit comfortably while your pictures get taken.
9. Oh Baby Pumpkin
The simplicity of this oh baby pumpkin is the reason it made its way to our best fall pregnancy announcement ideas list.
Is this something you'd do? We like to think all little pumpkins should be written on and displayed right!
You can do this too: grab a small pumpkin, a stencil to write on it. Then just place it on white paper and take the picture. No one will know it's on paper and you'll have that beautiful stylish white background for your little pumpkin.
10. Shoes On Display For Baby Announcement
Two things we love about this baby announcement. The first, those cute little baby shoes. The second is that orange tint filter over the image that makes it feel more Autumn and fall-like.
You can easily do this by getting a pair of baby shoes (even if you don't know what you are having yet) and getting a few shots of your shoes.
11. Mini Pumpkin & Photo Shoot
This adorable pumpkin shoot is from Making Manzanita. We love this pumpkin pregnancy announcement and all the pumpkins behind her make it so adorable. Go to your local pumpkin patch and do something similar.
12. Out Of Focus
We love this super simple picture. A large pumpkin and the parents to be in the background. this can also be used a September pregnancy announcement.
13. Pumpkin Cut Out
Do you love to DIY? This may be the photo for you to try. Paint a pumpkin white, and let it dry before you cut out a heart and add a tiny pumpkin to show mom-to-be is expecting.
---
Wow, you made it to the final step! Choosing your favorite best fall pregnancy announcements to do for your pregnancy!
How exciting, let us know which baby announcement you go with in the comments below, or if you did something original let us know we'd love to see it too!
Want To Remember These Ideas? Pin The Image Below To Your Favorite Pinterest Board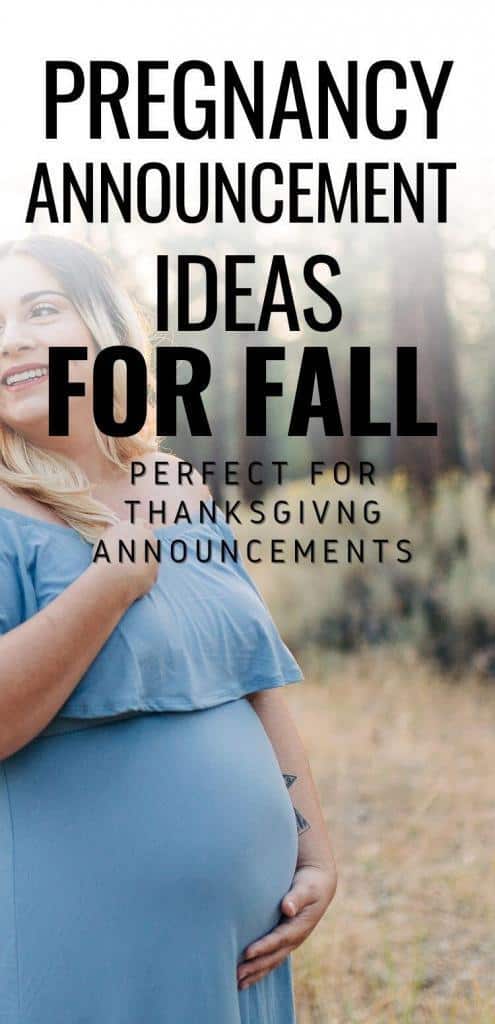 The Best Fall Pregnancy Announcements
You May Also Like:
How To Prep Your Home For A Newborn
23+ Pregnancy Halloween Costumes (you need to see)
What To Do When Pregnant In The Fall
The Most Affordable Nursery Rugs