This article collects the best date ideas and romantic things to do in Albany for couples based on major travel, blogs, reviews, and social media sites.
There are numerous romantic activities available in Albany. The city's biggest attractions are listed below, along with ideas for romantic dates. These activities, which range from fine dining to sightseeing throughout the city, are free to attend.
Imagine surprising your loved one with a last-minute trip to Albany. 
Imagine what it was like when you two first met. 
Bring those emotions to the forefront as you read this article.
Here are 30+ romantic things to do in Albany with your partner.
I like to travel but also be smart with money. Below are the places where I start my planning with. 

– ✈️Flights, Hotel, Tours – I seek out Flash Sales to guide my planning 👉 Find good deals
– 🛡️Travel Insurance – I like to go to the source like Travelex instead of paying a broker 👉Here
– 🚗Car Rental – Rental will save you lots of headaches. Search, compare, and save first up to 30-50% on Discover Cars. 👉 Save Now 
Links from affiliated brands I like.
Outdoor / Adventurous Date Ideas in Albany To Have Fun
Play an escape game at All In Adventures Escape Rooms
Visits to All in Adventures Escape Rooms are among the most entertaining pastimes.
You can play an escape game here with your significant other.
You spend the entire time in a room for 50 minutes. You also have a limited amount of time to find a variety of hints and solve puzzles. You can leave the room and prevail when you have solved them all.
Attend the Albany Tulip Festival
An exciting yearly event that is conducted happens in the springtime. It also reflects the Dutch heritage of the city.
You may notice a lot of brilliant tulips displayed in lovely arrangements around the event.
Additionally, there is food, live music, and much more, making it a fantastic event to attend.
See the city from above at the Corning Tower Observation Deck
This location offers a fantastic opportunity to see the beautiful city of Albany from the top. 
The city appears relatively small from the 42nd floor's stunning outlook. Additionally, you can observe the surroundings of the town.
What's terrific is that this tower is located in the middle of the city. Going here and other Albany date ideas are therefore simple to coordinate.
Music, Art, Historic, Cultural Date Ideas in Albany
Learn new things at the New York State Museum
The New York State Museum is a fascinating place to visit and explore history.
Here, you can learn about a wide range of topics. And it's all connected to the history, environment, and geography of New York.
Additionally, there are several specimens.
Additionally, other exhibitions each focus on a distinct aspect of the state. One exhibit, for instance, is dedicated to the local birds of New York.
Going here is thus one of the most romantic things to do in Albany if you want to learn something.
---
You might also like these articles
---
Recall the glorious past at Chester A. Arthur Memorial Tomb
The 21st President of the United States has a grand stature. It's made well and comes highly recommended.
Along with Chester Arthur, several more dignitaries are interred at Albany Rural. Mayor Corning, John Boyd Thatcher, and numerous others.
Stone masons created tombstone engravings long ago. For our dead warriors, the veteran's burial place is also essential. 
Great stroll, a lot of history, and occasional tours are available.
Revisit the things of the past at Albany Institute of History & Art
The museum focuses on the art, history, and culture of Albany and its environs.
Due to its broad focus, the museum's collection contains many unique items. Along with many other things, there are paintings, sculptures, and pottery.
Intriguing displays that concentrate on a specific historical theme or period are also available. Together, this is quite intriguing to observe!
Take a stroll at the New York State Capitol 
The structure is incredible to construct because of its distinctive architecture.
It has Roman Revival-style architecture.
You might take a stroll with your significant other and examine the architecture, which is fascinating.
You can tour the building to learn more about it and its function. You may also see the building's interior on tour, which is fascinating!
Indoor / Relaxing / Foodies Date Ideas in Albany
Enjoy a slice of pizza at Pizzeria Sapienza
Do you love fast food and can't resist eating some delicious pizzas? 
Then, you will love the delicious pizza at pizzeria Sapienza. Eat, relax and enjoy some wonderful pizza slices here for your desire. 
---
You might also like these articles
---
Relax your muscles at the Spa Halcyon
Would you like to unwind together? Then, you can visit Spa Halcyon for a couple's massage.
Nothing can beat the relaxation you will get from a good massage because it's so private and intimate. 
Another fantastic feature of this location is its fabulous interior and romantic vibe.
Watch a movie at The Madison Theater
The lovely décor and romantic atmosphere of this place are yet other outstanding characteristics.
It's also fantastic because this is a dine-in theater. Consequently, you can place a food order while watching a movie with someone special.
Go on a coffee date at the Stacks Espresso Bar
Visiting Stacks Espresso Bar is another of the most romantic things to do in Albany.
At this location, you and your spouse can have some great coffee. A lot of specialty coffee is also available.
For instance, this location serves excellent cold-made ice coffee and a relaxed ambiance.
Enjoy a fine dining experience at Grappa '72
Experience the wonderful blend of taste and class at Grappa '72. Have delicious Italian food at this restaurant, which you will surely adore.
And the best part is that this restaurant serves both traditional and modern cuisine.
You may also choose from various delicious sweets when you come here for supper!
Shop at the Crossgates Mall
If you are fond of shopping, Crossgates mall will never disappoint you. You can go shopping at more than 100 different shops.
Moreover, this location also allows you to mix dining and shopping. That's because, in addition to stores, there are eateries here.
Enjoy delicious cuisine at The Hollow Bar + Kitchen
Do you wish to eat a delectable meal with your significant other? The Hollow Bar + Kitchen is where you can head next.
You can find this eatery in the heart of Albany.
The cuisine is excellently prepared, and you can also enjoy the live music.
The restaurant is also housed in a historic structure, which enhances the experience.
Taste the scrumptious pastries at The Hong Kong Bakery & Bistro
Do you like eating pastries and desserts?
Hong Kong Bakery & Bistro is an artisan bakery that sells mouthwatering homemade goods. They offer delicious pastries with a hot cup of coffee here.
Fun and Entertaining Date Ideas in Albany
Do a day trip to New York City
You can travel to New York City for the day from Albany.
NYC can be reached from Albany in a little under 3 hours. Therefore, a day excursion is feasible! If you're seeking romantic activities to do in Albany, this is amazing.
You are welcome to tour New York City's top-notch museums. A Broadway performance is another option.
You can also take pictures together of the city's several famous locations.
Climb at Albany's Indoor Rock Gym
The Indoor Rock gym in Albany is the place to visit for hiking lovers and adventure enthusiasts. 
You can explore all the climbing routes if you have some climbing experience.
Moreover, you can improve your climbing skills by participating in lessons here, even in private ones.
Enjoy a fun-packed evening at the historic Palace Theater
In the heart of Albany's city sits a beautiful palace called the Palace Theater.
It is a historic theater that was renovated at a later date; it was built in 1931.
This location offers a wide variety of performances, which is excellent.
There are concerts, Broadway musicals, comedy performances, and many other entertainment options.
Play games at Apex Entertainment Albany
You can engage in all types of enjoyable activities here with your friends.
For instance, this location has an arcade where you may play a variety of games. There are more than 60 games available, both new and classic, for you to select from!
In addition, there are additional enjoyable activities like laser tag and bowling available here.
Going here is one of the best date ideas in Albany if you're looking for a spot with lots of variety.
See a Drive-In Movie at the Jericho Drive-In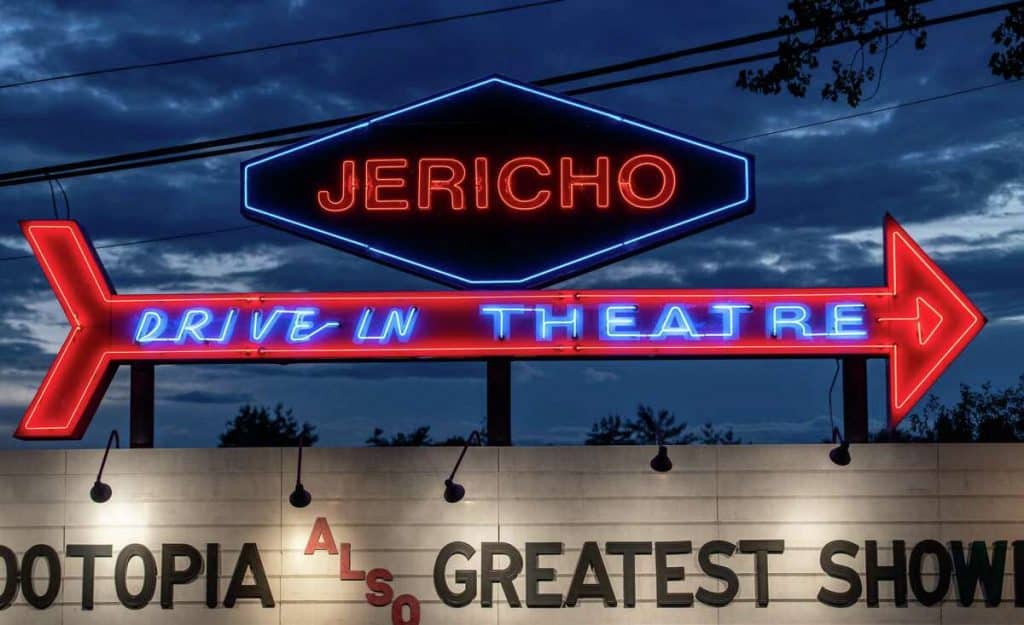 For movie fanatics, there is some unique idea for a date night in Albany.
You may do this at the Jericho Drive-In.
You may see the newest movies in comfort from your own vehicle in this location.
The fact that you can get delectable ice cream at this location is also fantastic. As a result, visiting this location is among the most romantic things to do in Albany.
Nature-Inspired Date Ideas in Albany
Go for a relaxing walk in Washington Park
This park is quite old and well-liked. There are several walking pathways and lovely scenery in this area. So it's ideal to get some fresh air and relax yourself from the hectic routine.
Time to take in some fresh air at Albany Pine Bush Preserve
Explore the serenity and calmness at the wonderful Albany Pine Bush Preserve in Albany. Forget away the noise and stress of the city and hike around some striking views. 
Active & Youthful Date Ideas in Albany
Play golf at Capital Hills at Albany
Love to play golf? 
Then it's time to double the fun by enjoying golfing and natural beauty simultaneously.
It is a nice public golf course with lovely scenery. What's great about this golf course is that it is suitable for players of all skill levels.
Try ice skating during Winter at the Empire Plaza Ice Rink
You can visit the Empire State Plaza Ice Rink if you're in Albany in the winter.
You and your companion can skate together on this sizable ice skating rink.
It's a lot of fun to do that!
Additionally, you could do this while also enjoying a cup of coffee. Going here is now even more regarded as one of Albany's most romantic activities.
Test your bowling skills at Del Lanes
Looking for some wholesome package of fun and enjoyment in Albany!!
Let's have some bowling fun at Del Lanes. The atmosphere in this bowling alley is fantastic.
Additionally, the restaurant's food is excellent. So this establishment allows you to bowl and dine together, which is fantastic for a date!
Root for fun-packed vaganza at Guptill's Roller Skating Arena
Do you like skating? 
If yes, you will enjoy skating at this fantastic indoor roller skating rink. Because of its size, roller skating here is considerably more enjoyable.
See a game of lacrosse by the Albany FireWolves
Do you and your partner both enjoy sports, specifically Lacrosse? After that, you may all watch an Albany FireWolves game.
This is a city-based professional lacrosse team. The MVP Arena is the best place to enjoy the games of this team. Wonderful atmosphere and fun combine well to create a magical environment.
Unforgettable Date Experiences in Albany
Attend a concert at the Upstate Concert Hall
The Upstate Concert Hall is a terrific place to go. This venue hosts a variety of shows that you and your spouse can check out. All types of live music are available, which is fantastic!
The interior of this performance hall is also fantastic, which is another outstanding feature. You may have a tremendous concert-going experience from any location.
Step back in time with a visit to USS Slater DE-766
Are you looking for a distinctive historical encounter in Albany?
Amazing restoration work has been done on the ship. It is a worthwhile experience for anyone with even a passing interest in World War I or World War II history.
The amount of personal items from Navy members is astounding to behold, and you may jump in and try to move the cannons on the ship.
This excursion will substantially exceed your expectations. This museum is a must-see because of how much information it contains on the ship's repair, the crew member's life during World War II, and today's volunteers.
Attend a melodious concert at the Albany Riverfront Jazz Festival
You can go to the Albany Riverfront Jazz Festival to soothe your ears with some lovely jazz music.
This jazz music event takes place every year. There are numerous jazz performances that you can go to. The cuisine at this event is excellent, and there are many vendors.
Cruise through the sightseeing tour of the Hudson River
Aboard the Dutch Apple II to enjoy ninety minutes of a wonderful sightseeing tour of the Hudson River.
Pay close attention as an authority on the Hudson River discusses the history of the area and the river, including the development of industries. Discover the boat's interior, built using the famous Hudson River Dayliners of the past, and take in the scenery as barges, freighters, and tugboats pass by.
Best Things to Do, See & Eat in Albany, NY
Final Thoughts
Albany, the capital of New York, is a beautiful city. The city's attractions are museums, old structures, historic sites, historic buildings, romantic getaways, hiking trails, city tours, boat tours, amusement parks, food events, and renowned eateries.
You may have fun in Albany whether you want to stay a while or are just passing through.
I like to travel but also be smart with money. Below are the places where I start my planning with. 

– ✈️Flights, Hotel, Tours – I seek out Flash Sales to guide my planning 👉 Find good deals
– 🛡️Travel Insurance – I like to go to the source like Travelex instead of paying a broker 👉Here
– 🚗Car Rental – Rental will save you lots of headaches. Search, compare, and save first up to 30-50% on Discover Cars. 👉 Save Now 
Links from affiliated brands I like.